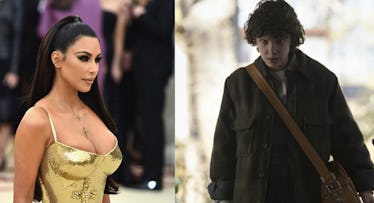 Millie Bobby Brown Has A Role For Kim Kardashian In 'Stranger Things' & Kim's Totally Down
Theo Wargo/Getty Images Entertainment/Getty Images / Davis/Netflix
The next installment of Stranger Things could be turning things way Upside Down, because a certain reality superstar is up for being a part of the Netflix supernatural hit. Millie Bobby Brown wants Kim Kardashian in Stranger Things, and it looks like Kim is totally game for a spooky stint in Hawkins, Indiana.
When asked which celebrity she would love to see on the show in the future, Millie Bobby Brown revealed to E! that America's first reality TV family is at the top of her list. "A Kardashian," she exclaimed, turning to Noah Schnapp (her co-star, who plays Will Byers). "Noah, would you love to see Kim Kardashian in Stranger Things?" A bewildered Noah inquired if that was actually happening, to which Millie jokingly responded, "Yeah, she's gonna play 10." "Kim Kardashian's gonna be in Stranger Things, you guys. She's gonna be amazing," she went on to tease.
E! News tweeted the clip of Millie's Kardashian hopes and Kim even took the opportunity to express her interest in the gig in response, using the "raised hand" emoji to represent her enthusiasm. That's basically a contract these days, right? I wonder if the Duffer Brothers would be open to this.
Talk about a crossover event for the ages. Can you imagine the mysterious circumstances to come if Stranger Kims is ever introduced? Expect chapters like, "The Case of Literally the Craziest Thing Ever" or "I Totally Went to the Parallel Dimension. Bible." Stranger (sorry, had to) cameos have happened (see: Ed Sheeran on Game of Thrones, Larry David on Hannah Montana). And Kim and Millie are buddies — the TV stars fangirled over each other in a hang sesh documented on social media back in March.
Millie hasn't exactly been shy about showing her love for the Kardash fam in the past. The actress dished on her obsession with them and their special language in an interview with Jimmy Fallon, even impersonating their famous catchphrases. "I think that they are just like, really great. They're so entertaining!" she gushed.
Prior to her encounter with Kim, Millie even tweeted that all she wanted was "for Kourtney K to shake her salad." As KUWTK watchers know, the sisters are known for chowing down on Elaine Benes-approved big salads on the show on the regular.
Kim, who is apparently very involved in making Millie Bobby Brown's dreams a reality, chimed in with a tweet back. She offered, "I can arrange this!"
In addition to managing meetings like this, Kim sent Millie a Valentine's Day treat in the form of her KKW fragrances. She then told TMZ that Stranger Things was her "favorite show," aside from Keeping Up with the Kardashians, of course.
Season 3 of Stranger Things is currently in production and while it probably won't feature Kim K. in a role, it will definitely focus on Millie Bobby Brown's Eleven in a major way. Brown recently spoke to Variety about her character, explaining what to expect when it comes to her evolution.
"It's a beautiful storyline for Eleven this season," she divulged. "It's really a coming of age for her and understanding what being a normal teenage girl is."
"Season 1, I feel like, was more playful. Season 2 was a lot darker. And then Season 3 does really well blending them together, and that's what I love about it," Noah Schnapp teased about the upcoming season.
The third season of Stranger Things is likely to premiere in 2019 and I'll be keeping my eyes glued to any further casting announcements until more info emerges. You never know who might come to shake things up...