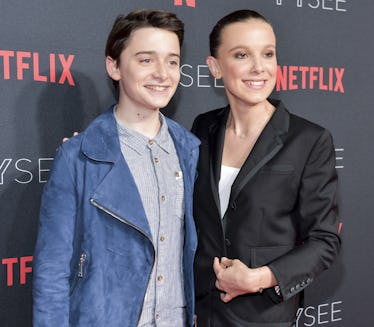 Millie Bobby Brown & Noah Schnapp Won The Internet With Their In My Feelings Challenge Video
Rodin Eckenroth/Getty Images Entertainment/Getty Images
It's no secret that the Stranger Things kids are some of the coolest around. And they prove it every chance they get. From winning MTV Movie & TV Awards to strutting their stuff at the Emmys, these kids show the world time and time again that they are fearless. And now a couple of the Stranger Things kids have crossed yet another thing off their to-do list: the Drake "In My Feelings" challenge, which is inexplicably taking the world by storm. Millie Bobby Brown and Noah Schnapp's "In My Feelings" Challenge video is actually incredible.
Brown posted the video to her Instagram on Tuesday, July 17, and immediately fans started swarming her account to see it.
In the video, Brown and Schnapp hop out of a car (which is, thankfully, not moving) wearing hoodies and immediately start their dance routine. The two are laughing throughout the whole thing and just having a blast for the camera.
At one point, the kids try to remove their hoodies, but they fumble a little bit, adding to the comedy of the video.
Brown captioned the video with, "nights like these get me crazyyyyy hahaha #friendshipgoals."
And they genuinely do seem like such good friends.
From the looks of the video, Brown and Schnapp appear to be on set. You can see various people and trailers in the background, and the kids simply look like they're on a filming break. Good to know that they get to have some fun while they work!
Here's how the "In My Feelings" challenge went down for Brown and Schnapp:
If you look closely, you can spot Caleb McLaughlin passing by in the very beginning of the video (he's wearing red!) and Finn Wolfhard also appears to be hanging around in the background. No sign of Gaten Matarazzo, though! So, the gang is almost all here.
Brown dancing to Drake's song is actually really cute, considering she's basically BFFs with the rapper. They've even posed for a few pics together, which have made fans go just a little bit wild.
Here's a look at their pics:
Seems like they're both huge fans of one another, so it's cool to see Brown enjoying Drake's music to the fullest!
In total, Brown's Instagram post has been viewed over 6 million times. Over 2 million fans have liked the video and there are over 30 thousand comments. Given all those numbers, I think it's safe to say that it's gone viral... like most things involving these kids and/or the "In My Feelings" challenge.
As always, fans are totally gushing over how sweet the video is.
"you two are so dang precious and your friendship is beautiful ❤," one fan wrote. "i truly hope you stay this way forever 🙌😊💕."
And that was just one of a plethora of incredible comments. Lots of fans are losing their minds over the video.
This isn't the first "In My Feelings" challenge video to have gone viral. So many are making the rounds and not all of them are as smooth as the one Brown and Schnapp filmed. Gotta love those Stranger Things kids!