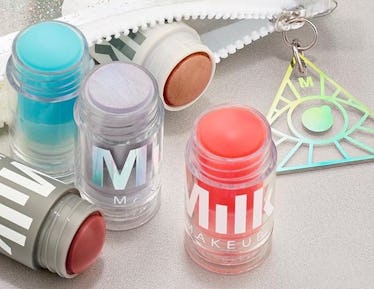 How To Score Free Milk Makeup On Black Friday & Cyber Monday
milkmakeup on Instagram
While some people have their eyes on Thanksgiving dinner, pumpkin-spice drinks, and unlimited dessert, I'm fully focused on shopping the best beauty sales of the season (the real MVP!). Which leads me to Milk Makeup's 2018 black Friday and Cyber Monday sales — the most wonderful time of the year to score major deals and even stock up on limited edition makeup sets. Here's everything you can expect when you shop for your favorite Milk Makeup staples beginning even before Thanksgiving Day.
Black Friday Deals
Whether you're the type that stays up until midnight to shop Black Friday sales or you'd rather get an early start at sleeping off your turkey dinner, you'll have a chance to save some major cash on milkmakeup.com. From Friday, November 23 to Sunday, November 25, you will receive 25 percent off the entire site. However, there are two minor things to note: There's a $35 minimum — but honestly, you'll want everything, so it would be almost impossible not to go over that anyway — and there are some exclusions (Wu-Tang Collection, Meet The Fam, The 'Rents, and The Cool Kids kit).
And if that wasn't enough, you also have the opportunity to score some free lipstick. When you spend $65, you'll get a free full-size lip color in the shades O.G. Red, C.R.E.A.M., or FRESHHH. Just use the lip color names as codes (OGRED, CREAM, FRESHHH) when you check out.
Also, beginning Black Friday, November 23, MILK MAKEUP is dropping two limited-edition bundles.
The Backlit Kit
This neon duo looks totally inconspicuous during the day, but at night, this lip and cheek combo glows under blacklights. The Black Light Lip Gloss in UV and Black Light Lip + Cheek in Electronic come with an actual mini black light and are packaged in a patent black pouch. The set will be available beginning black Friday for $28, but really, you're getting $38 worth of product.
The Kool Kids
Sometimes all you need is a pop of color on your cheeks and a swipe of mascara before you run out the door. This kit comes complete with the popular Kush Mascara and Lip + Cheek in Werk and only costs $14.
Cyber Monday Deals
If you completely slept on the Black Friday sales (that tryptophan in turkey is a killer!), don't freak out, there's still a chance for you to save, and honestly, it's worth the wait! On Monday, November 26, you will receive 35 percent off the entire site. There's still a minimum of $35 and exclusions on the Wu-Tang Collection, Meet The Fam, The 'Rents, and The Cool Kids kit, but that's 10% more than the black Friday sales! And best of all, you can still score a gift with purchase. When you spend $75, you'll receive a free full size Holographic Stick in the shade of your choice. Choose from the shades Mars, Supernova or Stardust and use the name as the codes (MARS, NOVA, STAR) when you check out.
Whether you'll be the first one shopping on Black Friday, or the last one scoring deals on Cyber Monday, here's your chance to get an early start on your holiday shopping or treat yourself to some much-needed Milk Makeup essentials. Don't you just love Thanksgiving?