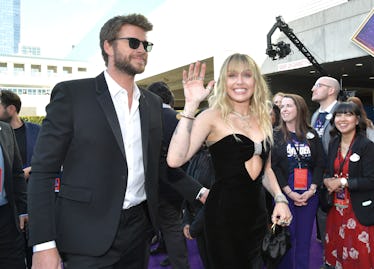 Miley & Liam Had The Most, Uh, Interesting Body Language At The 'Avengers' Premiere
Amy Sussman/Getty Images Entertainment/Getty Images
After a few months of marriage, Miley Cyrus and Liam Hemsworth's body language at the Avengers premiereon April 22 tells us a lot about how their relationship has been going since they tied the knot. We asked Traci Brown, body language expert and author of Persuasion Point, to check out three very different pictures of the two of them at this totally A-list event and tell us what she thought. Turns out there's a lot you can learn about a couple's relationship just based on a few pictures of them at an event.
Before we get into it, let me share one quote from Cyrus that kind of puts what you're about to read into perspective. "I love going to a random party and remembering basically everyone is fake AF out here and how lucky I am to share a life with someone so REAL," she wrote to Hemsworth in her most recent birthday post to him just a couple of months ago on Jan. 13, 2019. In other words, Hemsworth and Cyrus just don't really like hanging with Hollywood people. And I would have to imagine a blockbuster movie premiere is going to be pretty full of those "fake AF" people Cyrus was talking about.
So read along and see how they react when they're in these situations.