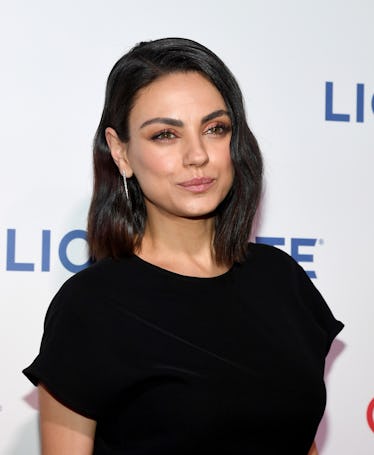 Mila Kunis Is On The Top Of Her Game & Her Net Worth Seriously Proves It
Ethan Miller/Getty Images Entertainment/Getty Images
I could go on for days about Mila Kunis and how amazing she is. She's funny, relatable, has a beautiful husband and family, and... oh yeah, she's rich AF. Mila Kunis' net worth is SO high and it's seriously deserved — this woman is running the game in more ways than one.
Mila Kunis, born Milena Markovna Kunis, got her breakout role on TV in 1998 with That '70s Show, where she played Jackie and starred alongside her now-husband, Ashton Kutcher. After that, she made her move into movies with my all-time favorite (and probably yours), Forgetting Sarah Marshall. Since then, we've seen her in hits like Black Swan, Friends With Benefits, Ted, and Bad Moms. Oh, and don't forget that she's been voicing the role of Meg Griffin in Family Guy since 1999.
As if all of that wasn't enough, Kunis has been the face of Jim Beam's ad campaigns since 2013. I mean, can you even look at that whiskey without seeing her face? I can't. Oh yeah, and she also runs a production company called Orchard Farm Productions.
All of this equals one massive payday for Kunis. In fact, according to CelebrityNetWorth, she's worth $55 million. Yep. That's an eight-figure salary. EIGHT! And she deserves every dang penny.
So, what about Ashton Kutcher's net worth, you might ask? Well, according to Bankrate, he sits pretty high at $200 million.
Kunis and Kutcher have two kids together — a daughter named Wyatt Isabelle, 3, and a son named Dimitri Portwood, 1 — so you'd think those birthday parties would be off the hook, and they got every gift they've ever asked for. But Kunis says she works hard to keep her kids grounded. In an interview with Entertainment Tonight in October 2017, Kunis opened up about her Christmas traditions with her kids. She told the publication,
So far, our tradition is no presents for the kids. We're instituting it this year because when the kids are [younger than] one, it doesn't really matter. Last year when we celebrated Christmas, Wyatt was 2 and it was too much. We didn't give her anything — it was the grandparents. The kid no longer appreciates the one gift. They don't even know what they're expecting; they're just expecting stuff.
Apparently, parents were outraged by this comment, and so on a visit to Jimmy Kimmel Live a few weeks later, Kunis set the record straight with Jimmy's guest host, Shaquille O'Neal. When asked if she didn't give her kids presents for Christmas, she said, "I will say this. Of course I'm not, like, anti-gifts. I just don't over-gift my child ... She's overwhelmed with gifts." She continued, saying,
It's just that they get so many wonderful gifts from my family and my husband's family that he and I literally give one present. And I know that story got taken out of control, like I'm like 'No presents for my daughter!' My son is 11 months old, so he gets boob and he's fine.
Can't argue with that logic. Kutcher also echoed the same sentiment about keeping his kids grounded while talking on Dax Shepard's podcast, Armchair Experts, in March 2018. He revealed he won't be setting up trust funds for his children and his money will end up being given to "charity and to various things." He said his kids are already "living a really privileged life and they don't even know it." He did say, though, that if one of his children came to him with a thought-out business plan, he would definitely invest in it.
You gotta hand it to this couple. They're just like any regular Joe and Jane... except for the fact that they're millionaires and celebrities, I guess. Mila and Ashton, will you guys adopt me? I'll start writing up my business plan ASAP.