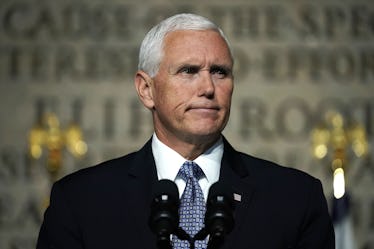 Mike Pence's Tribute To Pittsburgh Shooting Victims Is So Problematic
Alex Wong/Getty Images News/Getty Images
In times of national mourning and tragedies, Americans look to our leaders to set the standards. After the terrible shooting at the Tree of Life synagogue in Pittsburgh, Pennsylvania, on Saturday Oct. 26 that killed 11 people, the response from many national leaders has been... let's say less than stellar. And the vice president is the latest to put his foot in it, after Mike Pence joined Messianic "rabbi" Loren Jacobs to honor the Tree of Life synagogue shooting victims with a prayer.
The problem? Mainstream Judaism generally considers Messianic Judaism to be Christianity, due to its foundation in the Christian belief that Jesus was the messiah.
On Monday, Oct. 29, Jacobs joined Pence at a rally in the state to lead a prayer for the victims of the Pittsburgh synagogue shooting, which is believed to be the deadliest attack on American Jews in national history. Jacobs is the "senior rabbi" at Congregation Shema Yisrael in Bloomfield Hills, Michigan, which describes itself as a "Messianic synagogue," per The Washington Post. In his prayer, Jacobs invoked his "lord and savior Yeshua, Jesus the Messiah," using multiple names for Jesus. While Christians believe Jesus was the messiah and son of god, Jews do not. Jacobs also offered prayers for Republican politicians, including Pence himself, President Donald Trump, and several Republican candidates for office, including Bill Schuette and Mike Bishop, adding that he hoped that Americans would "vote wisely and well." He did not mention the names of the 11 victims of the synagogue shooting.
"I pray that you would enable Vice President Pence to continue to fulfill his many important responsibilities with excellence," he said. Elite Daily reached out to the White House for comment from Pence on the appearance, but did not immediately hear back.
Pence himself is a conservative evangelical Christian, leading to questions about why Jacobs was invited to speak. In a statement shared with Politico reporter Jake Sherman, Pence's office said that Jacobs had been invited by another politician, and that he had not been asked to speak on behalf of the Jewish community. The statement said,
He was invited by Lena Epstein to offer a prayer at the event, which he did early in the program. The VP invited him back on stage to deliver a message of unity. He was not invited by the VP's office to speak on behalf of the Jewish community.
Messianic Judaism, which includes the group Jews for Jesus, is controversial both for its claim to be part of the Jewish faith and for its focus on evangelism. Members of the religious group believe that it is their responsibility to proselytize to members of the Jewish community in order to bring them to salvation through Jesus.
Many on social media were furious about the decision.
While "thoughts and prayers" haven't been enough after a tragedy, in this case, perhaps Pence should have done even less. Maybe just stick to the "thoughts" next time, and leave the "prayers" out of it.