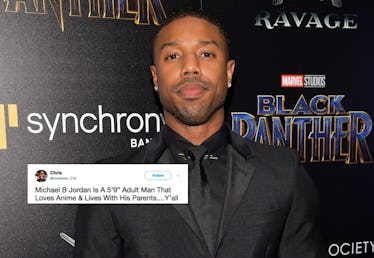 Michael B. Jordan Clapped Back At A Troll Who Joked About Him Living With His Parents
If y'all haven't went out and seen the movie Black Panther yet, then you are truly missing out. It was a great movie (breaking box office records and all), but the real reason you need to see it is because Michael B. Jordan is in it and GOOD LORD, that man is fine. One could say that he's having a bit of a moment — a very, very, well-deserved moment, I might add. Unfortunately, some people like to try and bring down a bright, shining star, but guess what? Our man is not going to let that happen. Someone on Twitter decided to bring some jokes to the table aimed at the Black Panther star — namely the fact that he loves anime and lives with his parents — but Michael B. Jordan's clapback tweet is pure FIRE, and clearly, the Twitter troll got nothin' but roasted in the end.
Let's get right to it, because the quicker we address the facts, the quicker I can salivate over photos of Jordan. (I never said I wasn't selfish.)
So, here's what went down: On Wednesday, Feb. 21, someone on Twitter decided to throw shade at Jordan, saying, that he's "A 5'9" adult man" who "loves anime" and "lives with his parents":
Let's talk a bit about these insults, bud. Why does height matter? And when did hobbies become uncool? Also, I know many people still living with their parents, so why are we judging that?
Lame.
But don't worry. Instead of the world trying to stand up for Michael B. Jordan, he did it his damn self, and his response was award-worthy:
MY MAN WENT THERE, YOU GUYS.
You see that? Let's get some sh*t straight. He's taller than you thought, cooler than you thought, and I'm sorry, but he's allowing his parents to live with him because he's clearly the KINDEST AND MOST GENEROUS HUMAN who loves his family.
Just a sec, you guys. I'm going to need a minute here.
And fans were living for his response, because how can you be clever, witty, and SO damn hot all at the same time?
Even Chrissy Teigen, mother-of-all roasters, had something to say:
Will someone get her an award too, please?
Jordan talked about his living ~situation~ with Ellen DeGeneres, and — just a warning, here — it will actually make you fall in love with him even more.
On The Ellen DeGeneres Show, Jordan discusses why his parents live with him (not the other way around, fools). He said,
I love my parents, but we have a roommate relationship right now, which is interesting ... You get home-cooked meals, but then you also have random trips to the kitchen in the middle of the night. Just the random run-ins that just might be a little uncomfortable from time to time.
DeGeneres pressed him, asking, "Naked?"
Jordan responded, saying, "Sometimes shirtless, maybe a little naked," talking about how he *might* walk around the house sans-clothes, and now we're all even thirstier than when we initially started this post.
But keep in mind: The reason he's living with his parents is because it was his dream to be able to gift his parents a home. He told The Times:
Look, it's every kid's dream, to buy their mom and dad a house.
YUP. He freaking BOUGHT his parents a home because he's just that good of a person. My dream is to pay back my parents a few hundred dollars for helping me out with car problems, and Jordan bought his parents a damn house, so that should put things in perspective for you. Also, sorry, mom and dad.
So the next time someone decides to roast Michael B. Jordan, they better think twice, because that anime-loving, 6-foot dreamboat is going to school you like you wouldn't believe.
And, as promised, here's some photos of Michael B. Jordan to salivate over:
I'd say you could thank me, but really, I think we all need to be thanking him. Bless you, Michael B. Jordan, you gorgeous human being. Bless you and thank you.