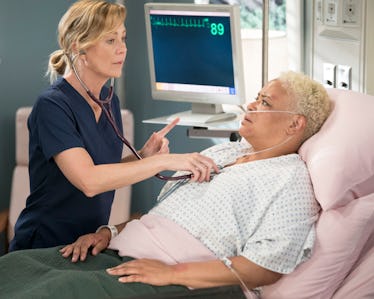 Meredith Hooked Up With This Doctor On The 'Grey's' Premiere, But It's Not What You Think
ABC
Grey's Anatomy announced this summer Season 15 would be subheaded the "Season of Love." The trailer for the premiere episode seemed to suggest Meredith Grey would be finding love again with a very racy moment between her and Andrew DeLuca together in bed, a follow up to the chemistry moment they had during the Season 14 finale. It turns out Meredith and DeLuca hooked up on Grey's Anatomy, but it's not exactly what the trailer suggested it would be. Warning: Spoilers for Grey's Anatomy Season 15 follow.
DeLuca and Meredith did hook up, but it wasn't in bed, and it didn't go past the kiss when DeLuca was drunk at the wedding during the Season 14 finale. DeLuca didn't even remember he'd hooked up with her until halfway through the walk to work. Meredith, on the other hand, was dreaming about it so steamily, she woke herself up, only to find Jackson ready to climb into bed with her. (Don't worry, it was just a dream within a dream.)
Meredith clearly wants to get laid, though precisely with whom is not clear. She doesn't want the DeLuca thing to be more than what it was. Meredith was his teacher, for heaven sakes, and the moral lines are blurry. But when a matchmaker winds up in the ER and suggests to Dr. Grey she should consider actively working towards finding love again, Meredith isn't entirely against the idea, no matter how hard she insists it's unnecessary.
This matchmaker, Cece Colvin, apparently believes she has come into the lives of everyone she meets to find them a soul mate. Meredith isn't the only one she's trying to hook up. The reason Cece is in the ER is that she passed out behind the wheel and almost hit Jackson and Maggie on their way in. DeLuca saved his co-workers, but the bicyclist who was passing them wasn't so lucky.
The poor cyclist admits (while high as hell on painkillers) she too wants love. But if the girl had to become a human bike rack just to meet a matchmaker, that's a pretty high price to pay. Cece is at least determined to make sure she gets every penny's worth.
As for DeLuca, the chemistry between him and Meredith is still strong. Strong enough even Jackson notices and wonders what's going on. But Meredith is having none of any of it. She'd rather get more work put on her plate so she can dream less. And she's definitely not going to meet any more handsome co-workers, not even when an Ortho god named Lincoln literally crashes into her in the hallway.
Besides, DeLuca is too high on saving the lives of his colleagues. He's kind of on a roll too. He not only saved Maggie and Jackson, he also put out Dr. Roy as well when the dummy didn't listen to the attending surgeon and blew up an aerosol can lodged in a patient's rectum, setting himself on fire. Too bad DeLuca couldn't save the patient too. But no matter what doctors believe, they can't save everyone.