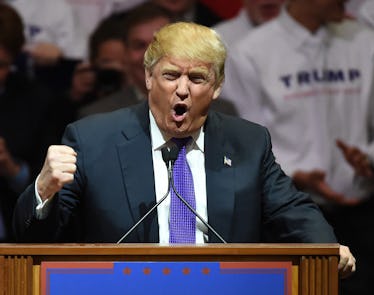 Reddit Took An Old Pic Of Donald Trump & Had A Photoshop Battle For The Ages
Ethan Miller/Getty Images News/Getty Images
Sometimes, for no rhyme or reason at all, a certain corner of the internet will produce a masterclass in meme-making that has literally nothing to do with current events. Such was the case with the last presidential administration, when there was practically a new Joe Biden meme every month. The current administration is no different either, because memes of President Donald Trump's rally speech photo from over a year ago in Las Vegas have taken over Reddit.
These are not just any memes though. These are memes on steroids, produced from a good ol' fashion photoshop battle that apparently took place over the Martin Luther King Jr. holiday weekend (if you were wondering where people get the time for this stuff).
It all started when a user went to Reddit's "photoshop battles" forum and submitted a picture which was originally taken by Reuters photographer David Becker. The photo was snapped at a rally in Las Vegas in June 2016, when Trump was still on the campaign trail during an election season that turned America's collective hairs gray (just in case you don't remember).
The photo shows Trump holding up two balled fists and pretty much screaming like a mad man. Or, uh, at least that's how it looked. And how it looked is very much what contributed to the picture being perfect meme material, because what was simply a funny pic turned into an outrageous collection of photoshopped images.
There's The Trump Kraken
The Trump Screamer
And The Trumpkin
The thread of photoshopped Trump featured dozens of entries, each one seemingly more ridiculous than the next.
By the way, these photoshop battles are not at all rare. They happen all the time, and no one is safe. The only rule to these battles appears to be that the original photo has to be funny. Not too long ago, a literal photoshop battle was sparked after a literal robot panda was erected in China (seriously).
So yeah, the Trump screaming photo was right up Reddit's alley, and results like these prove it.
Oh, and just in case you were wondering at what exact point the Las Vegas rally in 2016 happened — the one from which the original photo that was meme'd was taken — it appears the answer is the one that took place on Saturday, Jun. 18, of that year. On that day, Trump entertained rally-goers with a speech that included a warning about certain immigrants coming into the country. "Today you don't know who the hell it is and …. you are going to have problems the likes of which you've never seen unless Donald Trump becomes the president," Trump told the audience at the Mystere Theatre, per the Las Vegas Review-Journal.
Trump also included a line that featured more of his signature rhetoric on national security. "We are going to start winning again," Trump said. "We are going to have strong borders. We are going to have the wall. We are going to be respected again. We are going to win with our military. We are going to knock the hell out of ISIS."
At that same rally, a British teen was arrested after trying to grab an officer's gun from the holster, The New York Times reported. The man had "made a conscious effort to come to Las Vegas to kill Trump" and had been planning to do so for a year, a complaint filed in a U.S. District Court in Nevada said.
So yeah, we had a lot going on at that time, guys. Better to laugh at it with memes then to ever try relieving it.