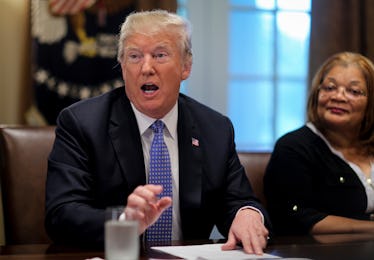 Twitter Is Trolling Trump's Grocery Store Comments In The Most Hilarious Way
Pool/Getty Images News/Getty Images
President Donald Trump is continuing to endure backlash two days after making head-turning comments at a campaign rally on Tuesday, July 31. Rather than fizzle out with the standard news cycle, public reaction to his comments about grocery stores has only leveled up. On Thursday, August 2, memes about Trump grocery stores and identification cards were all over Twitter, prompting the hashtag #TrumpGroceryStores to start trending.
While in Tampa, Florida to rally for Republican Rep. Ron DeSantis, Trump was speaking about his desire for voter identification requirements to reduce voter fraud. This was one of many times Trump has claimed that voter fraud plagues our electoral process, and in May 2017 even set up a commission to investigate it. But his claims that voter fraud is rampant have been repeatedly disproven.
Still, Trump "You know if you go out and you want to buy groceries, you need a picture on a card. You need ID," Trump said Tuesday. "You go out and you want to buy anything, you need ID and you need your picture."
To be clear: In most places, you only need an ID to purchase things like cigarettes and alcohol, or to verify identity if you're paying with an unsigned credit card. As CNN points out, photo ID is also sometimes required for membership-based stores like Costco and are issued for food stamp beneficiaries in some states.
In a press conference on Wednesday, White House Press Secretary Sarah Huckabee Sanders referenced this in seeking to explain the president's comments.
"Certainly, if you go to a grocery store and you buy beer and wine, you're certainly going to show your ID," she said. When asked when the last time the president had gone to a grocery store, Sanders responded, "I'm not sure, and I'm not sure why that matters, either."
That Sanders wasn't sure when the president had last gone grocery shopping didn't sit well with some people who viewed it as out-of-touch with the average American. Many people started wondering whether Trump knew about buying groceries at all, and they brought the memes to prove it. On the morning of Aug. 2, the hashtag #TrumpGroceryStores was everywhere.
Even Morgan Freeman questioned whether the president had ever done his own grocery shopping. "Has @realDonaldtrump ever shopped at a grocery store? Pretty sure his 'aides' do all his drive-thru runs, and prepare his Taco Bowls."
Plenty of memes took shots at the president's comments.
Some users made references to notorious fictional characters to prove their point. One, for example, compared Trump to Lord Farquaad from Shrek.
Another user referenced Lucille Bluth from the show Arrested Development to make their point.
Actually, a lot of people thought of that one.
Other users shared images of parody ID cards visualizing what such an identification might look like to shop at a grocery store.
There were also puns aplenty, with users trolling the president with verbal wit.
Trump's freewheeling claims didn't stop at grocery stores, though. At that same rally, he doubled down on his ID comments about voting specifically, saying, "In this country, the only time you don't need [ID] in many cases is when you want to vote for a president, when you want to vote for a senator, when you want to vote for a governor or a congressman." In reality, according to the National Conference of State Legislatures, 34 states require some form of ID to cast a ballot; only 16 don't require any. And a 2017 Washington Post study found that requiring ID actually leads to a lower voter turnout among minorities, who skew Democrat, and tends to benefit the Republican party.
Though the White House has already had to face the music once on Trump's Tuesday night comments, it's clear that their explanation didn't satisfy everyone. And like many of Trump's most outrageous statements, people aren't forgetting about this one anytime soon.