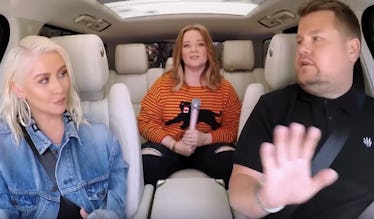 Christina Aguilera Revealed Her Childhood Crush During 'Carpool Karaoke' & I'm SCREAMING
YouTube
It feels like it's been years since we saw a true Carpool Karaoke gem, but James Corden blessed us with a new segment on April 23, and Melissa McCarthy and Christina Aguilera on Carpool Karaoke is all you need to watch today. The segment started out with Aguilera singing some of her classic bops with Corden. First came "Fighter," then a lesson in how to do that famous Aguilera growl, which Corden totally failed. They even talked about Mickey Mouse Club, guys. What a time.
Melissa McCarthy slid into the car like a f*ckboy slides into your DMs just in time to do Redman's rap break from "Dirrty," and she rocked it. But TBH, did we expect anything less from McCarthy? You may be wondering why James Corden decided to put Christina Aguilera and Melissa McCarthy in the same segment together. (It's not like McCarthy was on Mickey Mouse Club.) As it turns out, Aguilera is in McCarthy's upcoming movie, Life of the Party, and she also created a song for the movie's soundtrack. And now everything makes more sense.
One of the best parts of the video is when Aguilera tries to teach Corden how to growl. It goes down during the first minute of the video.
Corden stops Aguilera mid-"Fighter" to say, "How are you doing that with your voice?" She replied, "That's an angsty thing, you've got to get your fighter on." "I know," Corden responded, "but I think I just sound like I've got something trapped in my throat. I don't sound like I'm having a fight. I sound like Fozzie." If you don't recognize that Fozzie Bear reference (holy f*ck, I'm old), it's one of the Muppets. Got it? Great. Moving on.
Things got a little ~juicy~ when Corden started asking Aguilera about her time on Disney Channel's Mickey Mouse Club. When she was younger, Aguilera was one of the many members of the star-studded Mickey Mouse Club cast that included Justin Timberlake, Britney Spears, Ryan Gosling, and J.C. Chasez (the best *NSYNC member, you can @ me).
Yes, they were all on the same show before they became stars in their own right. And yes, it was everything.
Corden asked Aguilera what we all were thinking, "Even then, at that age, could you find yourself getting lost in Ryan Gosling's eyes?" She responded (a little awkwardly... what are you trying to hide, Christina?!), "I think there were crushes, but I wasn't on the train." Corden went in even further and asked, "What train were you on? Were you on the Timberlake train?" Aguilera got noticeably nervous, but eventually answered with, "Um, I think, there was like a… me and Britney… well now you know there was a thing back then... it was a good time." LOL, what?! Christina, you good?
She made up for her nervousness by basically admitting her younger self did have a crush on Justin Timberlake, but also revealed that Ryan Gosling had a crush on Britney Spears. "[Timberlake] had swag. Back then he had swag," she said. "But I know Ryan did have a crush on Britney. I think so." I love everything about this.
Corden and McCarthy got a lesson in how to be divas later in the video, and the lesson included bedazzled microphones and a vocal warmup. Then Aguilera showed off how high her range goes, and it's pretty damn impressive. Christina Aguilera is one of those singers where her speaking voice couldn't be more of a polar opposite from her singing voice. I have been trying to figure out how it's possible since the '90s, and I still have zero clue. I guess she's just gonna keep on doing that.
McCarthy's appearance in the segment closed out with them all jamming to "Genie In A Bottle," and then Corden and Aguilera sang "Beautiful." (Thank god.) Corden closed out the video saying he had "never heard a voice" like hers, and honestly, where is the lie?