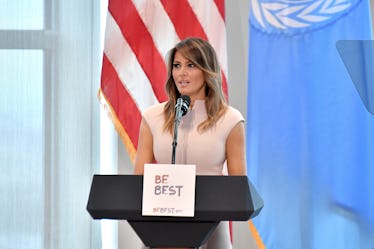 Melania Trump Is Going To Africa Without Her Husband For A Long Trip
Michael Loccisano/Getty Images News/Getty Images
Melania Trump is gearing up to take her first major international trip as first lady, sans President Donald Trump. During the United Nations General Assembly (UNGA) on Wednesday, Sept. 26, Trump announced the stops she'll be making on her upcoming trip to Africa. Set for the first week of October, Melania Trump's solo Africa trip will be a big journey, as the first lady plans to stop in Ghana, Malawi, Kenya, and Egypt, according to a press statement.
As first lady, Trump has decided to focus her work on the advancement of children both in our country and around the world through her "Be Best" initiative launched in May. Her travel plans are based around a central goal: to stick to her "Be Best" platform and help children around the globe. That goal is apparently what's behind this trip: according to her UNGA remarks, during her trip Trump will be working with the United States Agency for International Development (USAID), an agency committed to global health, stability, and humanitarian assistance around the world. Trump announced specific goals for each location in her remarks, citing efforts around maternal and child health care in Ghana; access to education in Malawi; early childhood education in Kenya; and tourism and conservation in Egypt.
Trump said on Sept. 26,
Since becoming first lady, I have had the privilege of speaking with many of the spouses of world leaders. Our discussions are always united by the universal desire to provide children with the support and tools necessary to grow up happy, healthy, and responsible adults. I am thrilled to be working with the United States Agency for International Development (USAID) on what I know will be a meaningful trip.
Trump explained to delegates on Wednesday that her initiative was set up to combat "issues that children face," and that organizations like USAID are a vital partner because they provide children with the proper "tools and skills needed for emotional, social, and physical well-being." She said,
When I launched 'Be Best,' it was with the goal of combatting some of the issues that children face today by shining a spotlight on successful programs and organizations that teach children the tools and skills needed for emotional, social and physical well-being.
The first lady's "Be Best" initiative focuses on three major pillars that she deems most detrimental to the advancement of children: overall well-being, the opioid crisis, and social media. When she announced the campaign in the White House Rose Garden back in May, Trump said that she believes the "ever-connected" state of the world can prove an unhealthy environment for children. As a response, Trump believes that children need to be taught "social and self-awareness, positive relationship skills, and responsible decision making." Since the launch, the first lady has been committed to seeing that the message carried out. For instance, back in June she spoke at the Students against Destructive Decisions National Conference, which is a program for middle and high school students that teaches them to be ambassadors to help their peers live drug-free lives. "I think youth leadership programs for children can be such a positive influence for the future," she said at the time.
However, despite the noble aims of Trump's campaign, it's received some blowback for its focus on social media, given that her husband, President Donald Trump, is notorious for haranguing his enemies on Twitter. Trump, for her part, has said the criticism won't stop her from tackling the issue.
Now Trump plans to take "Be Best" to Africa and work with children there, and her October is sure to be super busy.