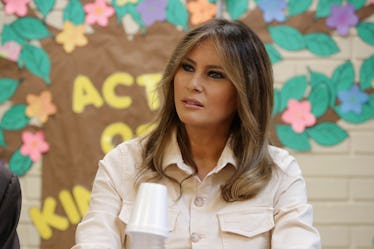 Melania Trump Told Students To "Show Respect" & Twitter Went Bananas
Chip Somodevilla/Getty Images News/Getty Images
The first lady's anti-bullying campaign has so far proven to deliver on its inherent hypocrisy — namely, because President Donald Trump is himself, a proud bully. As such, it seems as if almost any of Melania Trump's calls to action about bullying are going to be cross-checked by the remarks of her husband, the president. Needless to say, Melania Trump's SADD speech about children raised a lot of eyebrows.
Trump spoke to at Students Against Destructive Decisions' (SADD) national conference on Sunday evening, June 24. The conference is a four-day training program where 500 middle and high school students learn how to become leaders in encouraging their peers and those in their communities to live drug-free lives. (SADD was previously known as Students Against Drunk Driving, but in 1997 the organization changed its name and now covers substance abuse, personal health, and traffic safety.)
It's worth stating out of the gate that despite snarky comments on Twitter, there is nothing wrong with Trump's cause, other than the fact that her husband's administration (and Twitter feed) seems to contradict most of it. No one is arguing that bullying isn't worth fighting against, but people simply find it disingenuous that the person campaigning against bullying does not acknowledge her husband's conduct. The first lady opened her remarks by saying,
When I first heard about Students Against Destructive Decisions and this conference, I was inspired. This organization is about empowering children and teens — each of you — and helping you become active in your own communities. As a mother of a young son, I think youth leadership programs for children can be such a positive influence for the future. It is a privilege to be with you tonight and speak to each of you about the power you have as leaders in your schools and communities.
Again, innocuous enough. Then came the poorly-timed remarks.
"A couple weeks ago, I announced my campaign, Be Best," Trump said, referring to her anti-bullying campaign by name. "One of the largest pillars of my campaign is the well-being of children."
Clearly, "well-being of children" is the operative phrase here inspiring knee-jerk reactions. Recent outcry against the Trump administration has centered around the welfare of migrant children who had been separated from their parents under a new "zero tolerance" policy at the border. On June 20, Donald Trump signed an executive order that he says will stop this separation from happening. However, immediately after announcing the order, Twitter users pointed out that there had been no law prior that stated families had to be separated while crossing the border. During the signing, Trump spoke to reporters about the purpose behind this order, and said that it's meant to "keep families together" while also "having strong borders."
The first lady's speech on Sunday was also ironic because her husband has become something of a symbol for cyberbullying — having tweeted near constant attacks of his opponents both before and after assuming the role of president.
Trump continued in her speech by saying,
Kindness, compassion, and positivity are very important traits in life. It is far easier to say nothing than it is to speak words of kindness. It is easier to judge quickly than to take time to understand. It is often easier to see a glass half-empty rather than half full. Nevertheless, you have the power to be the positive force in so many people's lives. Show respect to each other. Treat your community like your family, and look out for one another.
Interestingly, the first lady seems to understand that people aren't taking her campaign seriously. Executives from Amazon, Facebook, Google, and Twitter gathered at the White House in March with Trump to discuss her Be Best initiative. According to Vanity Fair, Trump said, "I am well aware that people are skeptical of me discussing this topic. I have been criticized for my commitment to tackling this issue, and I know that will continue. But it will not stop me from doing what I know is right."
Honestly, between this and the "I Really Don't Care" jacket, if the first lady is this good at trolling America, she has my permission to talk about whatever social media trends she wants. I give up.