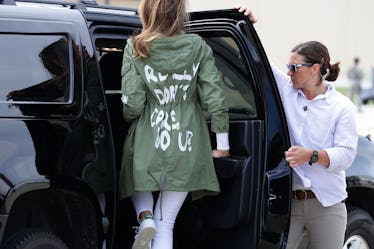 Melania Trump's Latest Comments On The "I Don't Care" Jacket Have Twitter Confused
Chip Somodevilla/Getty Images News/Getty Images
First lady Melania Trump's sit-down interview aired on ABC on Friday, Oct. 12. While a myriad of subjects were covered during her conversation with ABC News reporter Tom Llamas, there is one comment that has people on Twitter scratching their heads. It has to deal with the infamous jacket that Trump donned during her June 21 visit to an immigrant children's shelter in McAllen, Texas. Trump's thoughts on what seemed to be a closed matter were cause for much confusion. Take a look at why Melania Trump's comments on the "I Don't Care" jacket have some people trying to figure out what it all means.
You'll recall that the full text of the Zara coat Trump wore on her way to visit an immigrant center was, "I really don't care, do u?" With a seemingly pointed message, people at the time criticized Trump's wardrobe choice, as it was taken as a response to the immigrant family separations caused by the zero-tolerance immigration policy implemented by Trump administration in April 2018. (President Trump issued an executive order on June 20 to temporarily discontinue the practice of separating families and keep families detained as a unit, per The New York Times.) Stephanie Grisham, Melania Trump's spokesperson, told CNN in a statement at the time,
It's a jacket. There was no hidden message. After today's important visit to Texas, I hope the media isn't going to choose to focus on her wardrobe.
While it's a fair point that what people do is more important than what they wear, this wasn't a case of criticizing a style choice for the heck of it. The jacket had actual text that appeared to be a message. Although, at the time, Trump's spokesperson made it clear that there was "no message."
Cut to the rare interview taped during Trump's recent trip Africa and aired on Friday, Oct. 12, where Trump was asked about the jacket. After clarifying that the jacket's words were not intended for the immigrant children she was visiting, Llamas asked for whom the message was intended.
"It was for the people and for the left-wing media who are criticizing me," Trump replied. "I want to show them that I don't care. You could criticize whatever you want to say, but it will not stop me to do what I feel is right."
It was her next comment that really made people wonder what to believe. Llamas asked, "So you were sending a message with the jacket?" She replied,
It was kind of a message, yes.
Elite Daily reached out to Trump's spokesperson for further clarification of Trump's comments about the jacket, but did not hear back at the time of publication.
Unsurprisingly, Twitter had a few questions about the apparently new stance on what the jacket really meant. With two seemingly opposing statements about what the jacket meant, people don't know which to believe. Elite Daily reached out to Trump's spokesperson for comment and clarification about Trump calling it "kind of a message," but did not hear back at the time of publication.
Some people argued that it's difficult to tell people, "I would prefer they focus on what I do and on my initiatives [rather] than on what I wear," as Trump said during the interview, when you specifically wear a jacket with a written message on it.
Vanity Fair reporter Emily Jane Fox tweeted a message with that sentiment on Friday night,
It is totally fair for the First Lady to want people to focus on what she does rather than what she wears. But when she admittedly chooses to wear something to attract the attention of and send a message to the media, you are directly asking reporters to focus on what you wear.
Elite Daily reached out to Trump's spokesperson for a comment on the claim that a jacket that reads, "I really don't care, do u?" is putting the focus on the jacket, but did not hear back at the time of publication.
People really couldn't reconcile being told not to focus on a jacket with a question printed right on its back.
In the end, many of the responses on Twitter seem to show that people agree that what someone wears shouldn't be the topic of conversation, but a piece of clothing with a direct question written on it — and apparently directed at "the left-wing media" — is an exception to that rule.
Another revelation from Trump during the interview included her thoughts on the zero-tolerance immigration policy. Trump told Llamas,
I saw it on the news, and I reacted right away. It was unacceptable for me to see children and parents separated. It was heartbreaking. And I reacted with my own voice.
When asked if she disagreed with the policy that separated immigrant families at the border, Trump shared,
Yes and I let [the President] know. I didn't know that that policy would come out. I was blindsided by it. I told him at home, and I said to him that I feel that's unacceptable, and he felt the same.
Elite Daily reached out to the White House for a comment on Trump letting the President know about her disagreement with the zero-tolerance policy, but did not hear back at the time of publication.
Since its implementation, the zero-tolerance immigration policy has been halted with the June 20 executive order, and the Department of Homeland Security's (DHS) family reunification plan was announced on June 23, 2018.
As of Aug. 24, 2018, the Trump administration reported that "1,923 out of 2,654 children" who were identified as separated have been reunited with their families, per CNN. Elite Daily reached out to DHS and the White House for more updated numbers but did not hear back at the time of publication.
Seeing as how complicated the issue of family separations is, it makes you think that wearing a jacket emblazoned with a controversial message — that was apparently directed at the media — while on your way to visit children recently separated from their parents might have been a misstep if you wish for the media to not focus on your clothing.