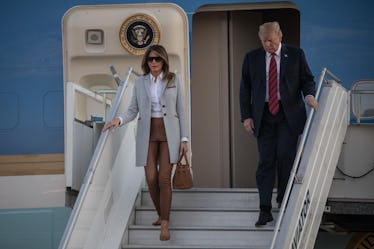 Donald Trump Allegedly Got Mad At Melania For Watching CNN, & I'm Not Surprised
Chris McGrath/Getty Images News/Getty Images
President Donald Trump's longstanding feud with journalists and the press — especially cable news networks — is well-known and well-documented. It doesn't sound like his opinions have shifted much as of late. A new report from The New York Times alleges that first lady Melania Trump reportedly watched CNN and President Trump wasn't having it.
UPDATE: In a statement to CNN reporter Kate Bennett, Trump spokesperson Stephanie Grisham said questions over what TV channel the first lady was watching were "silly" and that Trump watches "any channel she wants." The statement, shared in a tweet, also directed attention to Trump's work with children. It read,
Did you know that every 15 minutes a baby is born with NAS [neonatal abstinence syndrome]? Maybe you'd like to talk about the 160,000 kids who skip school every day for fear of being bullied, or that 280,000 students are physically attacked in schools every month. Seems kind of silly to worry about what channel she watches on TV (any channel she wants btw) or if she heard some recording on the news.
EARLIER: On Tuesday, July 24, The New York Times reported that Trump allegedly created a "bit of a stir" aboard the presidential aircraft when he learned that CNN was being broadcast on his wife's television instead of his approved news source: Fox News. The allegations stem from an internal email obtained by The New York Times in which officials from the White House Military Office and White House Communications Agency reportedly disclosed the interaction. Elite Daily reached out to the White House for comment on the report but did not hear back at the time of publication.
The allegations reported by The New York Times about Melania Trump's reported television news preferences seem to have apparently brought on changes aboard the official plane. In the email exchange revealed by The New York Times, the back-and-forth emails between White House officials reportedly ends with them agreeing that Fox News will be the only network to be broadcast on board Air Force One on future flights.
President Trump, who perpetuates the "fake news" movement, hasn't been shy about his feelings regarding CNN. In July 2017, President Trump tweeted an edited video of himself wrestling and, eventually, beating up a man with a CNN logo as his face. President Trump sent out the video to his millions of Twitter followers using the hashtags, "FraudNewsCNN" and "FNN."
On Tuesday, July 24, President Trump spoke at the Veterans of Foreign Wars National Convention in Kansas City, Mo. where he touted the country's economy under his leadership, but also couldn't help but take his usual jab at the mainstream news media.
"This country is doing better than it's ever done before," the president said, according to The Hill. "But it's all working out. Just remember: What you're seeing and what you're reading is not what's happening."
While addressing the room full of war veterans, President Trump continued, "Don't believe the crap you see from these people, the fake news."
In a world where the lines between fake news and real news are continually blurred, President Trump does not seem to be letting up on his crusade to admonish cable networks like CNN. On Thursday, July 19, President Trump took to his favorite platform to, once again, let the world know that he does not approve of the way the media portrays him and to suggest that the stories swirling out there about him and his administration are falsified.
Maintaining a pristine and likable image seems to be important for President Trump, and it seems it always has been. In May 2016, The Washington Post obtained a recording of a call from 1991 when a People magazine reporter called Trump Tower to interview the New York businessman for a story about his divorce from Ivana Trump. It's speculated that he called the reporter back, posing as his own public relations representative, according to The Washington Post. After the article was published, President Trump called into The Today Show to deny the allegations that he acted as his own spokesman.
President Trump continues to try and dictate his image in the press by sending tweets to control the messaging from within the White House. Mike Dubke, a former White House communications official, told Newsweek that President Trump, "writes a number of his own tweets, while some are suggested to him."
It seems that his concern to control the way he is portrayed extends even to what news source his wife reportedly chooses to watch aboard Air Force One, according to the report from The New York Times.