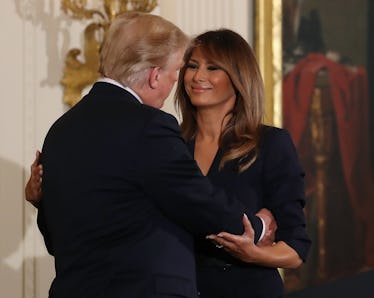 "Melania" Is Becoming A Popular Baby Name... But "Donald" Isn't Rising In Popularity
Mark Wilson/Getty Images News/Getty Images
Fast forward two decades from now and you just might just see lots of people who share their first name with the current first lady, crossing the stage during graduation season. That's because President Donald Trump's presidency appears to have led to "Melania" becoming a popular baby name. As for the president's first name, however, "Donald" has not seen any recent spike in popularity.
That's all according to government statistics released by the social security administration. The SSA charted the top 10 baby names of 2017, for both girls and boys, while also listing the names that saw the most increase in popularity from 2016 to 2017.
According to the administration's numbers, "Melania" saw the fifth most significant increase in popularity, behind names like "Oaklyn," "Dream," and the name that saw the single highest increase among girls, "Ensley."
"Donald" was not among the names charted on the list of names that increased in popularity. Still, the name Melania is far from the most popular baby names in America. The top spot among new born girls is "Emma," with "Olivia" and "Ava" rounding out the top three. For boys, the top three names for newborns in 2017 were "Liam," "Noah," and "William."
That the first lady's name would see an increase in popularity and the president's wouldn't isn't much of a surprise. After all, "Donald" is already a common name, and Melania's name seems more in-line with her European roots.
Plus, the Trump presidential campaign and presidency has given the first lady and her name that much more visibility. Then there's the fact that first ladies have the added benefit of being more prone to be viewed as non-partisan. While presidents typically have to stand firm on political debates that divide the country — think healthcare, taxes, you name it — first ladies usually champion causes that the majority of the country can get behind.
The story is no different for Melania Trump who, a week before the SSA released it's statistics, unveiled her signature initiative, Be Best.
"As a mother and as first lady, it concerns me that in today's fast-paced and ever-connected world, children can be less prepared to express or manage their emotions and oftentimes turn to forms of destructive or addictive behavior such as bullying, drug addiction or even suicide," the first lady said during a press conference in the White House Rose Garden on Monday, May 7.
Be Best focuses on teaching children the "importance of social, emotional, and physical health," the initiative's page on the White House's website says. Trump's unveiling of the program was a long time coming, with the first lady having signaled her intent to work on such a project since her days on the campaign trail in 2016.
"As we all know, social media can both positively and negatively affect our children. But too often, it is used in negative ways," Melania Trump said during her Rose Garden presser. "When children learn positive online behaviors early on, social media can be used in productive ways and can affect positive change."
Just like in 2016, the first lady's initiative has drawn skeptics in 2018, with critics assert that the president himself is one who displays behavior online that is antithetical to Be Best's message. Trump took on that criticism, however, months before officially rolling out her program.
"I am well aware that people are skeptical of me discussing this topic. I have been criticized for my commitment to tackling this issue, and I know that will continue," she said in March. "But it will not stop me for doing what I know is right," she said in opening remarks. We have to find a better way to talk to each other, to disagree with each other, to respect each other."
And now, she'll move on to working on finding that "better way," and might just teach a few kids with the name Melania on the way.