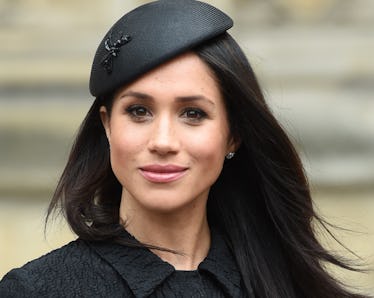 Meghan Markle Got A Wax Figure Right Before The Royal Wedding & TBH, It's Spot On
WPA Pool/Getty Images Entertainment/Getty Images
Meghan Markle will go down in history as one of the few American women to marry into English royalty when she marries Prince Harry on May 19, but she just made history as one of the few women whose wax figures actually look like them. (Yes, Madame Tussauds, I'm still not over Beyoncé's wax figure!! Fix it.) Meghan Markle's wax figure is here and it won't disappoint in the slightest. The figure was debuted on the morning of May 9, 2018, just 10 days before Harry and Meghan walk down the aisle and say "I do," or whatever royals say when they tie the knot.
The Madame Tussauds' London website provided some insight behind Markle's first-ever figure, as well as details about the updates made to Prince Harry's wax figure. His figure in London was originally debuted in 2014 to commemorate his 30th birthday, but Tussauds updated it to include his facial hair and the suit he wore in his engagement announcement photos. Markle's figure is also wearing the green dress she wore in the engagement announcement photos, and her engagement ring is sparkling in all its wax figure glory. Madame Tussauds' statement said,
Dressed in their famous engagement announcement outfits, Meghan's figure sports the sold-out P.A.R.O.S.H. dress and a replica of the engagement ring designed by Harry himself, with some added Madame Tussauds London magic to make it sparkle elegantly on the future Duchess' perfectly manicured hand. Harry's figure – originally created to mark his 30th birthday in 2014 – has been updated for the special occasion, most notably adding the Royal's dashing beard.
Are you ready for this? Feast your eyes on the Meghan Markle wax figure!
I've literally never understood the appeal of these, but I will admit that figure is pretty damn accurate.
Here are Meghan and Harry's figures side-by-side.
Also a very close likeness. The only thing this look is missing is the white coat Markle wore over her green dress in the engagement photos, but this will do just fine.
This video shows an up-close look at Markle's engagement ring, which looks impossibly real despite it being made of wax.
Madame Tussauds' website says the Prince Harry and Meghan Markle wax figures will be available for the public to come and see on May 19, the same day as the royal wedding. Fitting.
Fans on Twitter think Markle's figure is spot-on, but some are taking the opportunity to troll it a bit, naturally.
Madame Tussauds New York also made a wax figure of Markle that was debuted the same day as London's.
I've got to say... the London one is better. While they're both really similar, there's just something a little off about the New York one.
Markle's figure will join the ranks of her royal family member's figures. Queen Elizabeth II, Prince William, Kate Middleton, Prince Charles, Prince Philip, and Duchess Camilla all have their own figures. Madame Tussauds London is pulling out all the stops for the royal wedding, too, so if you're in London and can make it to the exhibit, go ahead and get a ticket because they're going all-out. The venue will reportedly be hosting their own bachelor and bachelorette parties (they're called stag and hen parties in England) on May 18, and the figures will also reportedly be set up in front of a handful of different backdrops so fans can get a variety of photos with the "couple."
Harry and Meghan's actual wedding will start at 12 p.m. London time on Saturday, May 19, so that means fans in the U.S. will have to be up at 7 a.m. EST and 4 a.m. PST if they want to watch the couple's nuptials and the celebrations that will follow.