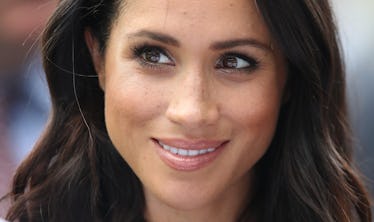 Everything Meghan Markle Has Said About Prince Harry's Family So Far
Chris Jackson/Getty Images Entertainment/Getty Images
By all accounts, Meghan Markle, Duchess of Sussex, was destined to become a royal. She was a child of distinct poise, intelligence, and purpose, even successfully campaigning for a dish soap company to change the sexist way it marketed its product to consumers at the tender age of 11 years old. More than that, though, she was had a love for the royal family, with photos of the future duchess visiting Buckingham Palace at 15 years old going viral shortly after she married her prince. Honestly, who isn't obsessed with the royals, though? But Meghan was a special case, it seems. With her grace and compassion, she's earned a coveted spot among the royals. Actually, Meghan Markle's quotes about Prince Harry's family prove that becoming a royal was fate.
To prove that Meghan's turn as a royal was basically predetermined, I've compiled some of her best quotes that show just how much she enjoys being part of this family.
On Queen Elizabeth II
There's no doubt that Meghan has the utmost respect for Queen Elizabeth. She's the reigning monarch, after all. But more than that, she's Prince Harry's grandmother and his love and respect for her have certainly influenced Meghan's opinion of the Queen.
In their joint engagement interview on BBC in November 2017, Meghan explained what it meant to her to meet the Queen:
To be able to meet her through his lens, not just with his honor and respect for her as the monarch, but the love that he has for her as his grandmother… all of those layers have been so important for me so that when I met her, I had such a deep understanding and of course incredible respect for being able to have that time with her … She's an incredible woman.
On Diana, Princess of Whales
Meghan has also talked a bit about Princess Diana in their joint interview, specifically about Prince Harry's decision to include his mom's diamonds in her engagement ring:
I think everything about Harry's thoughtfulness is – and the inclusion of that and obviously not being able to meet his mom it's so important to me to – to know that she's a part of this with us. And I think in being able to meet his aunts and – and also like Julia and just different people who were so important to his mom, I'm able to, in some way, know a part of her through them and of course through him. And it's – it's incredibly special. And you know to be able to have this which sort of links where you come from and Botswana which is important to us and it's – it's perfect.
The Duchess of Sussex was clearly moved by Prince Harry's choice of diamonds, especially because they were so personal and meant so much to his mom. It almost seems like she's gotten to meet Diana through Harry's eyes, much like the Queen, which is so beautiful.
On Kate Middleton, Duchess of Cambridge
Kate has always been a huge support to newcomer Meghan. Meghan even expressed as much during her and Prince Harry's engagement interview with the BBC.
"She's been wonderful," Meghan said of her future sister-in-law.
In the short period Meghan has known Kate, the two have reportedly become the best of friends. They even went to Wimbledon together on July 14 and they look like they had a fabulous time.
All in all, it seems like Meghan has successfully carved a place for herself among the royals, which is wonderful to see!