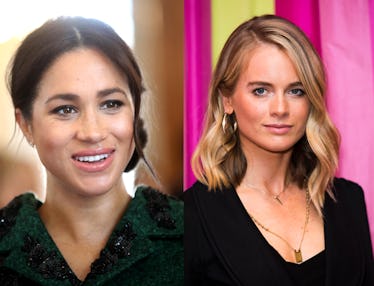 Meghan Reportedly May Skip Harry's Ex's Wedding, Even Though She's Invited
Getty Images
Another day, another fresh cup of piping hot royal tea. This time, a source told The Sun that Meghan Markle may reportedly skip Cressida Bonas' wedding. (Elite Daily reached out to the palace for comment and did not hear back in time for publication.)
Cressida is a British model-actress and Prince Harry's ex. According to The Sun, the two were introduced by Harry's cousin Princess Eugenie in 2012. The intro apparently went well because The Sun reports that the two wound up dating for two years before they ultimately split in 2014. And the split was reportedly Cressida's idea. "It was Cressy who was loathe to commit to marrying Prince Harry, she hated life in the royal goldfish bowl," a source told The Sun. "Cressy went out with Harry Wentworth-Stanley before she hooked up with Prince Harry. In 2017, Cressy contacted Harry WS, having made it plain to Prince Harry she was not going to marry him."
Cressida went on to date Harry Wentworth-Stanley, a real estate surveyor who comes from a pretty swag British family in his own right. As of January 2019, Cosmopolitan reported that the two had been dating over two years. On Aug. 19, the non-royal Harry announced that he and Cressida were officially engaged with an adorable Instagram selfie taken in Nantucket, Massachusetts.
Obviously, Prince Harry also moved on from his relationship with Cressida by, you know, marrying Meghan Markle on May 19, 2018. And Cressida even snagged an invite to her ex's wedding to his new bae.
Here's a picture of her looking casual as ever at the nuptials as if she wasn't at her ex-who-just-so-happens-to-be-the-prince-of-England's wedding to a famous, super accomplished American actress:
Royal commenter Adam Helliker told The Sun that Cressida has reportedly stayed on good terms with her royal ex, and she's reportedly planning on inviting both the Duke and Duchess of Sussex to her own upcoming wedding. "Harry will definitely go, as he has remained on very friendly terms with Cressida, who has never said a word in public about her relationship with the prince," Helliker told The Sun.
In addition to his close relationship with his ex, Prince Harry is also reportedly good friends with her future husband's mom. "Harry is also very friendly with the bridegroom's mother, Clare Milford Haven," Helliker told The Sun.
While one unidentified source told The Sun that both Prince Harry and Meghan were going to attend Cressida's wedding, Helliker wasn't so sure. "Meghan is known to feel less comfortable with his Harry's former girlfriends, particularly Chelsy Davy, who was the prince's first love and with whom he went out, on and off, for seven years," he explained.
"It was Meghan who ensured that Chelsy was not included on the list for the evening party after their wedding," Helliker continued. "This was a very pointed snub when many of Harry and Chelsy's mutual friends from pre-Meghan days were invited to the Frogmore House party."
And you thought your ex drama was complicated.