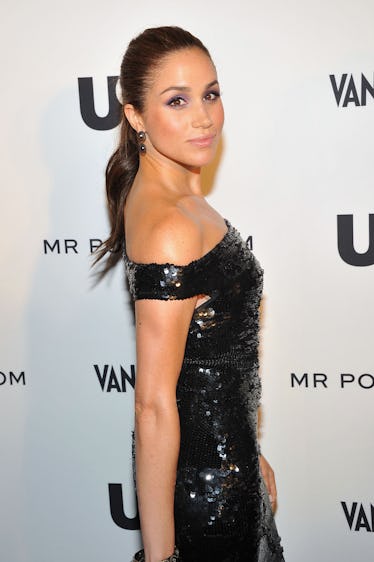 Meghan Markle Could Win An Emmy Despite Quitting Acting & It's About Time
Theo Wargo/Getty Images Entertainment/Getty Images
Meghan Markle, Duchess of Sussex, may have found her prince charming, but she's had to give up a whole lot to pursue her royal calling. Her acting career, for example. That's right, Meghan was forced to quit acting to make life as a royal a priority. And while that's a sad conclusion for her acting career, it doesn't mean that it's all over. In fact, Meghan Markle could win an Emmy for her work on her last season of Suits.
According to a new report from Entertainment Tonight, Meghan was submitted by USA Network for Emmy consideration in the Outstanding Supporting Actress in a Drama Series category. If nominated, Meghan, who played lawyer Rachel Zane on the show, would find herself among some very stiff competition. ET reports that Chrissy Metz (This is Us), Thandie Newton (Westworld), Millie Bobby Brown (Stranger Things), and many of the actresses from Orange is the New Black have also been submitted for consideration in the same category.
So, Meghan's chances of scoring a nomination are likely slim, especially considering how popular all of the above-mentioned shows are. But even still, to be submitted for such an award is exciting in and of itself. And a nomination would certainly be a significant way to mark the end of her acting career.
Meghan is not the only Suits cast member to get a strong push for a nomination. Her onscreen husband, Patrick J. Adams, was also submitted by USA Network for Outstanding Lead Actor in a Drama Series. Their castmate Gabriel Macht was also submitted for the same category. Additionally, Rick Hoffman was submitted for consideration in the Supporting Actor category, Gina Torres was submitted for Guest Actress, and Sarah Rafferty was submitted for Supporting Actress.
Even if Meghan doesn't get a nomination for her incredible work on Suits, at least she's in great company among her fellow cast members. Can't complain about that, right?
While no one from the Suits cast has garnered much attention from the major awards academies in the industry, Meghan's newfound international recognition may play a hand in getting them on the ballot. But that's no guarantee.
Meghan joined the cast of Suits in July 2011. Her character, Rachel Zane, underwent an incredible transformation during her time on the show, often mirroring Meghan's own life. Her character started off as a paralegal and eventually became a respected attorney. Like Meghan, Rachel was biracial and looking to break through society's glass ceiling for women and, especially, women of color.
Before marrying Prince Harry, Duke of Sussex, in May 2018, Meghan completed the seventh season of Suits in late 2017. She later moved from Toronto, Canada where she was filming to Kensington Palace to live with Prince Harry.
When her engagement to Prince Harry was announced in November 2017, Meghan spoke briefly about retiring from acting to focus her energy on causes she cares about:
I think what's been really exciting as we talk about the transition of this out of my career, but into the role, is that, as you said, the causes that have been very important to me I can focus even more energy on, because very early out of the gate I think you realise once you have access or a voice that people are going to listen to, with that comes a lot of responsibility which I take seriously.
So, while a potential Emmy nomination would be a bittersweet end to an impressive acting career, it doesn't seem like she'll miss acting all that much. At least she's trading one passion for another, which is always wonderful to see.
I wonder if she'd be able to make an acceptance speech if she was somehow nominated and won the Emmy. I bet that pesky royal protocol wouldn't allow it!