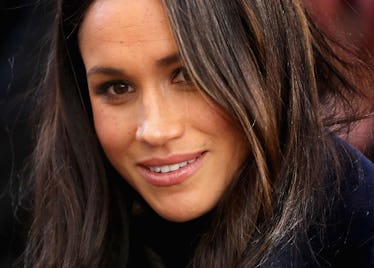 Meghan Markle Can Still Have A Job Once She's Married & We're Here For It
Chris Jackson/Getty Images Entertainment/Getty Images
When the news first broke back in late November that Meghan Markle was engaged to Prince Harry and leaving the cast of her long-running USA legal drama Suits — RIP Rachel Zane! — I pretty much assumed the 36-year-old actress was trading in her working woman life for good to focus on becoming a real-life princess because c'mon, who wouldn't? But according to a new report from TMZ, Meghan Markle can still have a job — or at least a side gig — once she's married, and we are seriously loving this new development. I mean, I would totally buy some Lash Boost or a $150 jar of face cream from her, wouldn't you?
Here's the deal: According to "palace sources," TMZ says there are no U.K. laws in place that prevent a member of the royal family from having their own passion project. Case in point: The Countess of Wessex, who married Prince Edward, ran a PR company after becoming a member of the royal fam. Pretty cool. Which is why I was kind of excited when reports first surfaced on Dec. 2 that Markle was partnering up with Victoria Beckham on a bio-botox line (whatever that is). But alas, those rumors have since been shot down as "completely untrue."
Kind of a bummer because I was seriously loving the idea of Posh and Markle gal pal-ing around the palace together, with the former maybe giving the latter a cool new nickname like Royal Spice.
And while I can't imagine Markle will seize the opportunity to go back and re-join Suits — even Grace Kelly had to abandon Hollywood to become Princess of Monaco — perhaps the actress will revisit her lifestyle blog The Tig, which she ran for three years before shutting it down last April.
Of course, if you aren't a Suits fan and didn't start following Markle until she and Prince Harry became a thing, then you probably never heard of The Tig, so here's what you need to know. The website was basically a less pretentious version of Goop, described as a "hub for the discerning palate — those with a hunger for food, travel, fashion and beauty."
But maybe it's not in the cards for Markle to become royal blogger. There are plenty of other side hustles Markle could take up. Here are a few of our favorite options.
Launch A Cooking Show
By now, we've all heard the story about how Prince Harry proposed to Markle while the two of them were just kicking back and making a roast chicken together. I say Markle could easily turn the sweetest of stories into a major cooking career — or at least a show on BBC Two. Watch your back, Nigella Lawson!
Start A Humanitarian Group
Markle is already an avid humanitarian and activist. She's been an outspoken advocate of gender and racial equality, she's travelled to Rwanda with World Vision Canada, and she's visited India to raise awareness of women's issues and empower women's self-esteem with the United Nations Entity for Gender Equality and the Empowerment of Women. Starting her own humanitarian organization seems like the next logical step for this champion of charitable causes, dontcha think?
Design A Jewelry Line
Markle's stunning engagement ring — a center stone with two round stones flanking it — is already inspiring copies. So, why not put that trendsetter status to good use by designing her own jewelry line? I'm totally digging the snake-inspired friendship bangles she picked up on a recent vacation, and can see her fans clamoring to get their hands on some similarly low-key designs. Plus, Markle rhymes with sparkle, so there's that.
Become A Certified Pilates Instructor
And finally, I think it would be pretty cool if the newly-engaged star became a certified palace Pilates teacher. After all, her mom was a yoga instructor, so exercise is in her blood. Markle recently told Women's Health UK she's a big fan of Megaformer classes at Platinum Pilates, a Los Angeles studio founded by Markle's friend and personal trainer Heather Dorak.
"Pilates Platinum is hands down the best thing you could do for your body," she explained.
I can just picture the Queen balancing one of these bad boys, can't you?