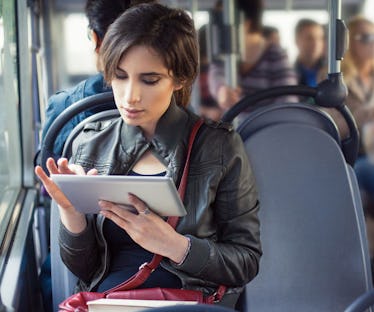 You Can Get A Free Round Trip To Your Job Interview, Thanks To This Bus Service
If you are trying to line up an out-of-town job this summer but don't have the means to get to your interview, don't fret. When there is a will, there is a way, because Megabus is offering free trips to your job interview this summer. Legit, right? Before you book your transportation, get your resume ready and put on your Sunday best. It's time to go and secure your summer gig.
Megabus is offering job candidates a free found-trip ticket to their next summer job interview, according to a press release. The discount transportation service serves more than 100 cities nationwide, and all are included in this once-in-a-lifetime promotion. All you have to do is claim your redemption code by filling out a very short form. Once you've submitted the form, Megabus will send you a retrieval code to claim your next round-trip bus trip free of charge. You should book your ticket soon, though, because the offer is only valid through Friday, June 15.
"For young professionals and recent grads, the job hunt can be a challenge – especially when the opportunities are out of town," Sean Hughes, director of corporate affairs for megabus.com, said in a press release. "Whether the interview is in another city, or another state, we're committed to getting people there safely and free of charge via this unique offering."
That's not all Megabus is doing to help steer you down the right professional path. The intercity bus service is also providing two career coaching experts to help you prepare for the interview while you are in transit. These mentorship services will only be available during routes on Wednesday, June 13 between Houston, Dallas, and San Antonio. Riders will be able to chat with the coaches about their resumes, and the coaches will help prep each candidate for their upcoming interview by asking a few sample questions.
Now, say you've already booked a trip to another city for a job interview, and you are feeling like this whole thing is one big missed opportunity. That's OK, because Megabus has already taken your situation into consideration and is going to reward you for your initiative and job hunting skills with a free round-trip ticket regardless. There is a catch, though: The trip must be redeemed before Monday, December 31. If you land the gig, at least you know you have a free trip back to pack up your stuff for the summer.
"The interview can be intimidating for even the most prepared candidate," Octavia Goredema of Twenty Ten Talent said in a press release. Goredema is one of the experts who will be onboard the Megabus to help job seekers. "We're here to offer our support, insights and experience to those candidates traveling to their interviews, in an effort to provide all the resources candidates need for a successful interview."
If you are searching for a summer job, the odds may be in your favor. All the more reason to take advantage of this sweet, money-saving deal from Megabus. The Bureau of Labor and Statistics released their May jobs report, and the numbers are lookin' pretty good. The unemployment rate is down to 3.8 percent, and the economy added 223,000 jobs last month. Jobs in retail trade, health care, and construction are all trending upward, according to the BLS — so a new career could be on the horizons for you this summer.
If you haven't already, go ahead and scope out your summer job — and do so quickly. After all, summer will whiz by before you know it. Remember: this free round-trip deal on Megabus is only valid through Wednesday, June 15.