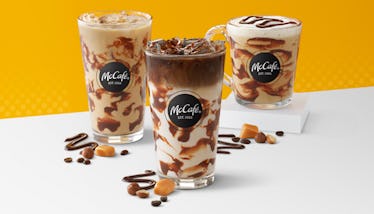 McDonald's Just Dropped New Coffee Drinks & Each Flavor Sounds Sweet AF
One of my favorite things about McDonald's is without a doubt their McCafé menu. To be completely honest, I think it's underrated. Not only are McCafé coffees strong AF, but they're also pretty dang cheap. And now, they're sweeter than ever. On Wednesday, March 21, the fast-food hot spot unveiled three new coffee beverages — and each one sounds like it could be double as a dessert. That's right: McDonald's new Turtle drinks are here, and they'll totally remind you of those caramel-filled chocolate candies you know and love.
You know the ones I'm talking about, right? I'm referring to the chocolate turtles that are typically stuffed with gooey caramel and nutty pecans. They used to be my favorite type of chocolate as a kid, and since then, I forgot how much I adore them. Thanks to McCafé, I'm now able to relive my childhood memories and indulge in chocolate turtle-flavored coffee. I'm so happy.
So, what makes McCafé's Turtle beverages so reminiscent of the candies? It's definitely the flavors. According to McDonald's press release, the Turtle coffee beverages feature flavors of chocolate, caramel, and hazelnut — and if you've ever tried a chocolate turtle, then you can already sense (or taste) the similarities.
I know you're probably intrigued after seeing a photo of the beautifully sweet beverages, so let's dive into each one. After learning more about them, it'll probably be hard to choose which drink you want during breakfast (or dessert).