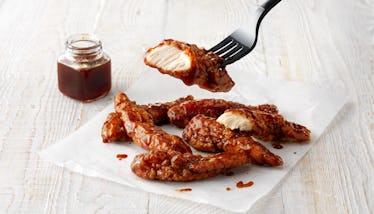 This Upgraded McDonald's Menu Item Won't Be Here Forever, So Get It While You Can
Please, correct me if I'm wrong, but it's pretty much a fact of life that McDonald's chicken tenders are one of our country's national treasures. Right? Just think about it: They're crispy on the outside and juicy on the inside. They're a timeless classic, and as of next week, McDonald's Sweet N' Spicy Honey BBQ Glazed Tenders will be available for a limited time. For real — they're about to change up your Mickey D's ordering game like no other. As the Backstreet Boys once serenaded you with in the late '90s, "I don't care who you are/Where you're from/What you did/As long as you love..." McDonald's chicken tenders. I mean, they did sing that, didn't they?
It looks like the week of Monday, Aug. 20 is about to become the best week ever for chicken lovers, because it happens to be when McDonald's will officially release its latest and greatest creation: Sweet N' Spicy Honey BBQ Glazed Tenders, per an official release. The new menu item be available at McDonald's restaurants throughout the United States for a limited time. According to the release, the glazed tenders are made with all white meat, just like the classic Buttermilk Crispy Chicken Tenders. The difference, however, is that each tender is hand tossed in a simultaneously sweet-and-spicy honey BBQ glaze, which is comprised of brown sugar, chili pepper, garlic powder, and paprika. It's the snack you never knew you needed, and you'll definitely want it.
In a press release, Linda VanGosen, the Vice President of Menu and Brand Strategy at McDonald's, said that each of the chain's chicken-based menu items are (righteously) super popular. This is why Mickey D's wanted to build off the Buttermilk Crispy Tenders' popularity by adding a little extra delicious somethin'-somethin' (aka honey BBQ glaze). I haven't even tasted them yet, and I'm already hooked, TBH.
In the press release, VanGosen said,
We share our customers' love of chicken. A better McDonald's means more chicken options and delicious new tastes. We are building on the success of our Buttermilk Crispy Tenders by offering a new craveable sweet and spicy taste we know our guests will love.
According to the press release, the Sweet N' Spicy Honey BBQ Glazed Tenders will be available as a 4-piece, a 6-piece, and even a 10-piece order, if you want to get real wild. Also, they can be ordered via McDelivery through Uber Eats (aka my lord and savior), so get ready to have Sweet N' Spicy Honey BBQ Glazed Tenders at your beck and call. I know I'm ready for it, my poultry-lovin' friends. They're truly everything I could ever want.
Go ahead and fight me on this, but very few things can surpass the deliciousness of crispy McDonald's chicken. I couldn't be happier that they finally have something new for all my fellow spice fanatics out there. I don't know about you, but I'm already planning my next McDonald's trip around these babies. Just make sure to get to your nearest location ASAP, because this sweet-and-spicy snack is only here for a limited time. All hail the Sweet N' Spicy Honey BBQ Glazed Tenders, y'all.