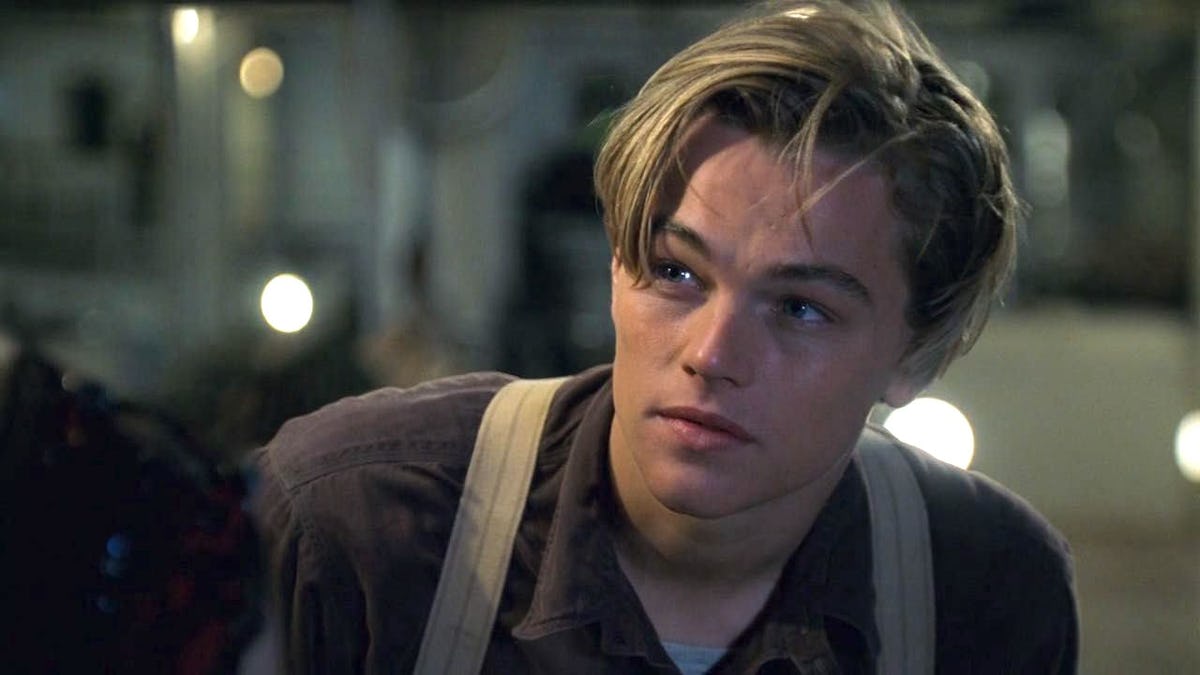 This Actor Was Almost Jack In 'Titanic' & It Will Make You Scream
Paramount Pictures
It's hard to imagine anyone else but Leonardo DiCaprio in the iconic role of Jack Dawson in Titanic, but apparently, it almost went to another A-list actor. That's right — it was nearly someone else standing on the edge of that boat yelling "I'm the king of the world!" And according to Kate Winslet, it was so close to going to another actor that she actually originally auditioned for her part of Rose DeWitt Bukater alongside someone else. That's because Jack in Titanic was supposed to be played by Matthew McConaughey, but director James Cameron made the decision to switch McConaughey out in favor of DiCaprio. Kate Winslet revealed all this new Titanic info in an interview on The Late Show with Stephen Colbert over the weekend.
Apparently, Rose and Jack were pretty much set to be played by Kate Winslet and Matthew McConaughey for a good while, with Winslet even auditioning for Rose with McConaughey beside her as Jack. Reportedly, this was the pairing that Paramount Pictures was pushing, but the movie's director James Cameron had a different idea, and insisted that Leonardo DiCaprio play Jack instead. And the rest is history. Winslet recalled her very early Titanic days of working with McConaughey in public for the first time over the weekend:
I auditioned with Matthew, isn't that weird? Never said that in public before. Yes, I did; I auditioned with Matthew, which was completely fantastic.
The switch to DiCaprio would seem to be the safe move when you look at the film credits of the two actors before Titanic came out in 1997. At that time, Matthew McConaughey was new to the acting game, still best known for his first film role in Dazed & Confused in 1993, and despite proving himself as a scene-stealer, his only lead role had been in the fourth installment of the Texas Chainsaw Massacre horror franchise. On the other hand, Leonardo DiCaprio had just made the jump from sitcom star on Parenthood and Growing Pains into an already acclaimed movie actor thanks to early hits What's Eating Gilbert Grape and Romeo + Juliet.
Titanic became a breakout role for DiCaprio, and it's safe to say that it would have done the same for McConaughey if the production company had its way, but in the end it really didn't matter since now both DiCaprio and McConaughey are two of the biggest names in Hollywood. McConaughey made a name for himself by helming some of the biggest rom-coms throughout the 2000s, and then recently focusing on more dramatic roles, earning his first Oscar for his lead role in 2013's Dallas Buyers Club. And Leonardo DiCaprio followed up his Titanic boom by becoming Martin Scorsese's muse, continuing to star in a string of critically acclaimed dramas.
Still, it is fun to think about how different Titanic would have been with a young Matthew McConaughey drawing Rose like one of his French girls instead of Leonardo DiCaprio. Check out Kate Winslet's full interview about Titanic below:
Oh, and just for fun, I thought I would list some of the other big actors that auditioned for Jack in Titanic but didn't get the part. It sounds like nobody came as close to getting Leo's big role as Matthew McConaughey did, but the part did get significant attention from a bunch of other A-list actors, such as Christian Bale, Johnny Depp, and even Macaulay Culkin. It really is crazy to imagine all of those other movie stars playing Jack Dawson.
Over 15 years after Titanic came out, Leonardo DiCaprio and Matthew McConaughey finally did get to work together recently on 2013's The Wolf of Wall Street, both playing ruthlessly affluent businessmen — a far cry from Jack Dawson, I'd say.