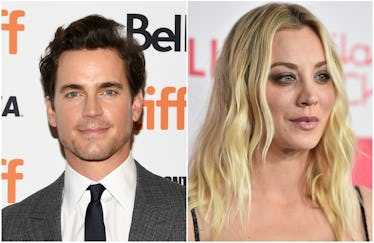 Matt Bomer & Kaley Cuoco Are Joining The DC Universe As Negative Man & Harley Quinn
Emma McIntyre/Getty Images Entertainment/Getty Images & Alberto E. Rodriguez/Getty Images Entertainment/Getty Images
She may be wrapping up her time as the nerds' best friend on The Big Bang Theory, but Kaley Cuoco's next career move would definitely make the comic book fans on the CBS comedy proud. Following the success of the character's appearance in 2016's Suicide Squad, the DC Universe's Harley Quinn is getting her own animated series, and Cuoco will voice the diabolical villain when the show premieres in 2019. In case Harley Quinn isn't your fave, another DC Comics figure will also appear onscreen in another series soon. Matt Bomer and Kaley Cuoco are joining the DC Universe as Negative Man and Harley Quinn, and we can't wait to see their work in the superhero realm.
The casting news comes after the Sept. 15 launch of DC Universe, a streaming subscription service focusing on original scripted shows and new access to DC material via TV, movies, and comic books. Cuoco was announced as the titular voice for the service's Harley Quinn in a clip offering a first look at her voiceover work. Released in celebration of the start of New York Comic Con, the video shows Harley Quinn locked away at the Arkham Asylum and promising a show with "comedy, action, and incredibly gratuitous violence." The footage also pokes fun at the cancellation of a Deadpool-themed cartoon, perhaps suggesting that we're in for a very meta take on Harley's backstory.
Harley Quinn joins Young Justice: Outsiders as the two announced animated shows that DC Universe will soon offer. The service also has four live-action series in store, including Doom Patrol, which follows a team of superhero outcasts that a pair of mad scientists have brought together for the sake of a mission. With Brendan Fraser, April Bowlby, and Diane Guerrero already slated to feature on Doom Patrol, Matt Bomer will also join the cast as the voice of Negative Man and appear onscreen in flashbacks of the hero's alter ego Larry Trainor. Fraser announced Bomer's casting at DC Universe's Titans world premiere at New York Comic Con, and Bomer then surprised fans with a video of himself on the show's Atlanta set.
On the series, both men will voice their characters while other actors appear in their counterparts' superhero suits. While Robotman is a former racecar driver whose brain now lives in a robotic body, Bomer's Negative Man was once a pilot who crashed into negative energy and is now completely wrapped in bandages as a result Although the Doom Patrol characters will soon mark the 55th anniversary of their first comic book appearance, now seems to be their much-deserved moment in the spotlight. Along with the launch of Harley Quinn, 2019 is definitely shaping up to be the year of DC underdogs being celebrated.
Described as a "first-of-its-kind digital experience," DC Universe offers exclusive original series, older TV shows and movies, and even a reading resource of modern and digital comics for a monthly charge of $7.99. While the service's debut series Titans begins streaming on Oct. 12, we'll have to wait a bit longer for Cuoco and Bomer's takes on these DC figureheads. Harley Quinn and Doom Patrol are expected to launch on the DC Universe streaming service in 2019.