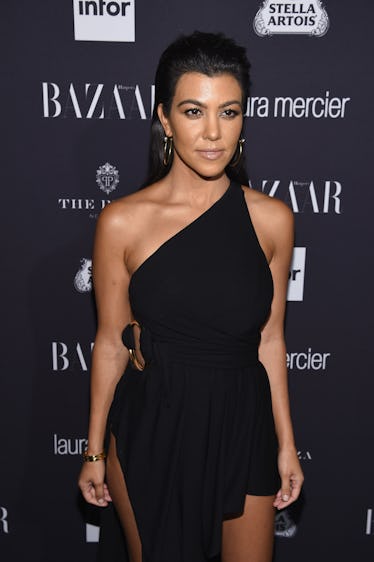 Kourtney Kardashian Just Posted A Bikini Photo That Her Son Took & I'm LOLing
Dimitrios Kambouris/Getty Images Entertainment/Getty Images
If you're a mom with an 8-year-old son, what are the chances that you'd let him take your photo and then post that photo on social media? Well, if you happen to be Kourtney Kardashian, then the chances are pretty high because her son is genuinely a great photographer. Mason Disick's photo of Kourtney Kardashian was just posted to the reality star's Instagram and the Internet is going wild.
Kardashian, 39, posted her son's photo to her personal Instagram on Wednesday, May 16. In the photo, Kardashian is resting it up on the beach in a black bikini and sunglasses with her hair tied back.
Kardashian included a rather simple caption with the photo: "photo by mason," Kardashian wrote. So sweet that she gave the little guy credit for his awesome photography skills. And he really does have a great eye. The photo is strikingly clear and captured Kardashian at a fantastic angle!
Did I mention that little Mason is only 8-years-old? Obviously, he's an artist in the making!
But Mason's age aside, it's an incredibly flattering photo, for sure. He must take after his aunt Kendall Jenner, who's also very much into photography. In fact, Jenner recently took some photos at the Met Gala for Vogue. Maybe that photography talent runs in the family!
Here is a look at the photo Kardashian posted on her Insta:
Fans have been praising little Mason's skills ever since Kardashian shared the photo.
"Youngest up and coming photographer…Mason needs to teach my boys," one fan commented on the photo.
The young photographer is clearly making an impression. His cousin North West didn't get quite the same reaction when she snapped a photo of her mom, Kim Kardashian a few months ago. Ah, well. North still has a few years to develop her photog skills!
Mason's photo of Kardashian comes at a time when the reality star seems to be in rest and relaxation mode. She's been spending lots of time at the beach recently and sharing photos of her time there. She posted another photo of herself taking in some sun just a day ago:
And just a few days prior, she posed a pic that was snapped out in the desert, where she was enjoying the morning sun:
Kardashian is definitely living it up and, to be honest, I'm a bit jealous.
But she works just as hard as she relaxes. She's a mom to three young kids — her eldest son Mason is 8, her daughter Penelope is 5, and her youngest son Reign is just 3. So, she absolutely has her hands full. Can't blame her for taking time for herself!
Speaking of kids, Mother's Day just recently passed and Kardashian took to her Instagram yet again to express her gratitude for being a mom to her wonderful children:
Along with the photo, Kardashian included the following caption: "Thank you God for making me their mommy."
So touching!
In addition to being a mom, Kardashian is also girlfriend to Younes Bendjima. The professional model and boxer just turned 25 years old and Kardashian surprised him with a special trip. Kardashian didn't reveal where the pair were headed, but I'm sure it was somewhere super nice!
In true Kardashian fashion, the reality star shared photos of the surprise via her Instagram story.
Bendjima also posted a few pics to his Instagram to mark the occasion:
He looks ready to celebrate! And those balloons in the background definitely make the photo even more festive.
Kardashian is clearly dedicated to making Bendjima feel special for his milestone birthday! Gotta love it!