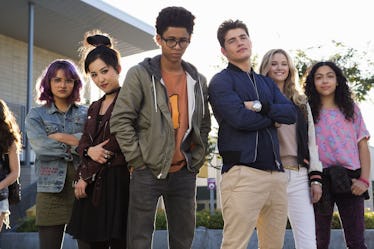 Marvel's 'Runaways' Trailer Sets Your Favorite Teen Heroes Against Evil Parents
Hulu
While most of the attention to the TV side of the Marvel Cinematic Universe has gone to ABC and Agents of S.H.I.E.L.D. or Netflix's Daredevil, this past year saw the MCU release two excellent series that don't air either of those places. Over on Freeform, there's Marvel's Cloak & Dagger, which has gotten excellent reviews. And on Hulu's streaming service, the MCU released Marvel's Runaways, a show a little slow to catch on but is now a bonafide hit. The new Marvel's Runaways trailer suggests Season 2 will continue to show's upward trajectory.
Marvel's Runaways was always a show with a big twist hiding at the end of the first season, but unlike some other series, where the twists are really just plot twists pulled from the comics, Runaway's writers went for something they called "no Wikipedia answers."
The result was an exciting mashup of comics plot and creative direction. Like on the page, the six superpowered teens of the series discover their parents aren't the good guys. They're part of PRIDE, an organization of supervillains. But that twist has not come to pass on the show.
Instead, the six kids have fulfilled their show's name and run away from home. Season 2 picks up almost immediately after the end of Season 1.
[T]he second season picks up almost immediately where the first season left off, with the runaway teens are now on their own after escaping their evil parents. As they scavenge for food, search for shelter and take care of one another, the teens begin to realize that, for better or worse, they're stuck with one another. And it's up to them to take down PRIDE once and for all. But someone sent a mysterious message to the creepy PRIDE leader Jonah (Julian McMahon) that leads us to believe that there might be a mole in the group. Meanwhile, PRIDE is focused on finding their children — but the squad of teens is ready to put up a fight. And amidst all of this, Jonah has his own dangerous plan in mind.
While the first season of Runaways took all 10 episodes to set up the reveal of the parent's evil ways and for the kids to, well, run away, co-creator Josh Schwartz promises Season 2 will pick up the pace. Speaking to USA Today, he said:
It's going to accelerate. We are now running with our kids. There's a greater sense of tension and momentum in keeping with where we are in this part of the story.
Also, now that the story has established the parents are part of this cult-like enclave of villains, the show is going to focus more on the kids' stories, and how they survive on the streets.
[T]hey're kids from Brentwood (a tony L.A. neighborhood); they're not really built for living on the streets of Los Angeles.
Marvel's Runaways will return to Hulu on Friday, Dec. 21, 2018, most likely with two or three episodes arriving at once for the premiere, and then one episode a week thereafter.