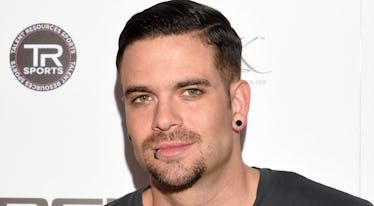 Former 'Glee' Star Mark Salling Was Reportedly Found Dead At 35 – UPDATE
Vivien Killilea/Getty Images
Former Glee star Mark Salling has reportedly been found dead in Los Angeles on Tuesday morning, according to TMZ. The report says that authorities suspect it may have been a suicide. He was 35 years old at the reported time of death. Elite Daily reached out to Mark Salling's reps for comment, but did not hear back by the time of publication.
UPDATE 2: Mark Salling's cause of death has been revealed, E! Online reports. According to the Los Angeles Coroner, Salling's death was due to "asphyxia by hanging." The case is now closed.
UPDATE 1: Mark Salling's attorney, Michael J. Proctor, released a statement to Elite Daily regarding Salling's death. The statement reads, "I can confirm that Mark Salling passed away early this morning. Mark was a gentle and loving person, a person of great creativity, who was doing his best to atone for some serious mistakes and errors of judgment. He is survived by his mother and father, and his brother. The Salling family appreciates the support they have been receiving and asks for their privacy to be respected."
EARLIER: Mark Salling's body was reportedly found dead at a baseball field in the Sunland area of Los Angeles, where the actor lived. Apparently, Salling's body had been in the field for some time before the authorities found him — the report claims that the police were asked to do a "welfare check" on Salling after he was reported as a missing person by a family member around 3 a.m. on Tuesday morning. That led the officials to the baseball field near Salling's house, where they reportedly found his body.
Mark Salling was facing a four to seven-year prison sentence after pleading guilty to possession of child pornography and registering as a sex offender at the end of 2017. His guilty plea had just been formalized by the court on Dec. 18, 2017, a little over a month before his death. At the time of death, Salling was still awaiting sentencing. Elite Daily also reached out to Mark Salling's reps for comment on his legal proceedings, but did not hear back by the time of publication.
Last fall, TMZ reported that Mark Salling attempted suicide prior to his child pornography trial. That report claims that Salling had attempted to take his own life on Aug. 22, 2017, a few days after his 35th birthday and a month before his court case was set to begin. The report also claims that Salling's roommate found him and called the paramedics in time to save him. Salling's lawyer denied that this report was accurate.
Prior to his public legal battle, Mark Salling was best known as one of the stars of the Fox musical dramedy Glee. Salling played Noah "Puck" Puckerman, the resident "bad boy" of the high school glee club, for the series' full run from 2009 to 2015. He starred on the show for its first four seasons, and then was reduced to a recurring character for the show's final two seasons, Season 5 and Season 6. Salling was also a recording artist, having released two solo albums: 2008's Smoke Signals and 2010's Pipe Dreams.
Toward the end of his run on Glee, Salling began to become more well-known for his criminal charges rather than his acting career. On Dec. 29, 2015, Salling was arrested at his Los Angeles home over charges that he was in possession of child pornography. A few months later, he was indicted after investigators seized his laptop and reportedly found thousands of pornographic pictures and videos of underage children. His legal trial began on Sept. 12, 2017, and two weeks later he pled guilty to the charge of possession of child pornography. Salling was ordered to register as a sex offender, enter treatment, and was forbidden from communicating with anyone under the age of 18 without a parent or legal guardian present.
At the time of his death, Mark Salling was awaiting sentencing after his guilty plea to possession of child pornography was formalized by the court in December. The judge was scheduled to sentence Salling in March, and prosecutors had recommended four to seven years in prison. Since Salling pled guilty to the charges, he was likely going to get about five years in jail, rather than the 20 he was facing if given the maximum sentence.
If you or someone you know are experiencing suicidal thoughts, call 911, or call the National Suicide Prevention Hotline at 1-800-273-8255.