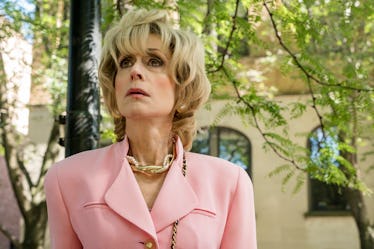 This Character On 'American Crime Story' Really Has Products For Sale, So Start Buying
FX
The Assassination of Gianni Versace: American Crime Story is getting slammed on all sides for playing fast and loose with the truth. But this story was always going to be harder to tell than Season 1's The People v. O. J. Simpson: American Crime Story, as the alleged killer, Andrew Cunanan, died by suicide before capture, so there were never clear-cut answers to be had. (We say "alleged killer" because, since Cunanan died before capture, he was never charged or tried.) But some details are right. Marilyn Miglin's products were for sale on HSN, for instance, and still are today. She has spent her life as one of the most successful saleswomen of her generation, who started a makeup boutique on Oak Street in 1963 and turned it into an empire.
This week's episode of American Crime Story focuses on Andrew Cunanan's other famous alleged victim, Lee Miglin, a real estate giant in the Chicago area, who invented staples we take for granted like the warehouse-office hybrids known as business parks and office complexes that connect underground.
The show suggests that Cunanan and Miglin had some sort of "gigolo for hire" relationship, which is not far off from the rumors that swirled at the time of his death. (Rumors also suggested Cunanan was someone Lee's son Duke, who was an aspiring actor, might have known. The story was retracted soon after, but the damage was never fixed.)
But like the Versace family insists that the show gets Gianni's life wrong in their details, Marilyn Miglin has insisted, from the very beginning, that this simply was not true. When she finally spoke to the Chicago Tribune, a year after her husband's death, she said:
I don't think you heal — you never close up that gaping wound — but you adjust. I lived the life of a fairy princess and I had a prince for 38 years, and then one day my prince went to war and didn't come back.
In that 1998 interview, Miglin is prepping a gala attended by the then-first-lady Mrs. Clinton, who she sees as someone else living through slanderous times. (1998 was the height of the Lewinsky impeachment scandal.) It tells you a lot about Miglin's position in the Chicago business world that in a time when "Women's Right Are Human Rights" was still a hard sell, she's the one holding galas that include the First Lady.
Miglin was always a successful businesswoman. She started out as a model in the late 1950s, before transitioning to business in 1963. It says in an article from Michigan Avenue:
The former model's original concept 'was — and still is — to teach women how to apply makeup that is correct for their lifestyle.' Beginning with 129 unusual brands of cosmetics never before available to the general public, Miglin initially mailed out about 500 letters to friends and acquaintances inviting them "to come into this little store on Oak Street."
The Miglin brand is not only known for makeup, though that's where they started, but also now perfumes and body scrubs. Miglin's bestsellers include the Destiny and Pheromone lines, as well as her "M for Men" body spray. She is one of the Top 500 business women in the world, and Oak Street, where her shop sits, has the honorary title of "Marilyn Miglin Way." Her work with burn victims and children born with facial disfigurements had earned her the Raoul Wallenberg International Humanitarian Award, and April 15 was proclaimed in Chicago to be Marilyn Miglin Day.
In 2018, Miglin will celebrate 25 years on the Home Shopping Network, where she was a pioneer in direct sales into the home starting in 1993. You can go to their website right now and buy her products, twenty years after she lost the man she insists was the love of her life. At least the show got that right.