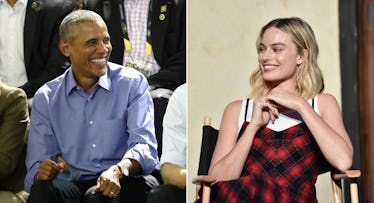 Margot Robbie Had A Hilarious Story About Barack Obama's Surprise Appearance On Her Honeymoon
Chris Jackson/Getty Images for the Invictus Games Foundation / Alberto E. Rodriguez/Getty Images for AFI
When Margot Robbie appeared on Ellen DeGeneres' show on Wednesday, Jan. 10, she shared a hilarious story involving short shorts, her husband, a gym, and former President Barack Obama. The story was also about meeting Ellen as well, granted. But the kicker of Margot Robbie's honeymoon story was definitely about Obama and it was definitely hilarious.
"I'm scared because my husband's going to kill me for telling this story," Robbie told the host. "But it's my favorite story ever and it's the story of how Ellen and I met."
The story takes places at a luxury hotel on an island that Robbie visited with her husband, Tom Ackerley. As the story goes, Ackerley made a — let's say — questionable fashion decision when it was time for the pair to go to the gym.
"We get changed to go to the gym and Tom puts on these shorts that are like, his oldest gym shorts, and they're tiny. And they're like really short and there's nothing underneath," Robbie told DeGeneres. Robbie later added, "I was like, 'Babe, you cannot wear those shorts … I can see everything.'"
Robbie eventually agreed with her husband that they wouldn't run into anyone important, so, no big deal.
Then they noticed Ellen.
"And so we walk into the gym, and running on a treadmill is Ellen. And then on the treadmill next to her is Portia, her wife," Robbie said about the chance encounter. "That's not even the best bit, but already Tom and I are like, 'Oh my God.' And Tom's face has like just gone white."
The couples exchanged pleasantries (super normal). After that, Robbie met someone else important (which was definitely not normal). "And standing next to them is former President Barack Obama ... I'm not kidding — in a gym that's tiny," Robbie said.
The day was only made more awkward by the fact that Robbie and her husband were taking a class that day that required lots of stretching (which, you could imagine, raised just a few issues given Ackerley's attire).
"It was a very confined space, and we then had to do this whole, like — we had to do this stretching class and Tom meanwhile is trying to like, not reveal anything," Robbie said. "And he's dying and I'm crying so much, I'm about to crack a rib ... And Tom's trying to lunge cross-legged and Obama's like stepping over his legs to put his weights back. And the whole thing was so absurd."
Ackerley is a producer for the recently released movie Robbie stars in, I, Tonya. As most stars do while promoting a film, Robbie has been making various appearances for media interviews, hence her appearance on Ellen.
None of those interviews is a funny as the story she told DeGeneres, which ended in Ackerley's hilarious embarrassment in front of a former president.
"We literally got to the end of the class and we're doing like a last stretch, which was legs out like this," Robbie said, mimicking the stretch. "And Tom's now got a towel on his crotch, trying to be modest and his face just says it all. He's like, 'I'm gonna kill myself, this is the worst day of my life.'"
The story does have a happy ending, though. Well, at least for Robbie. It turns out Obama is a fan of the Australian actress, who has appeared in other movies such as The Wolf of Wall Street and Suicide Squad.
But the fact that Obama knows who Robbie is does not stand out more than the fact that her husband pretty much showed the president, and everyone else in the gym, his crotch.
"It was honestly one of the funniest things that's ever happened," Robbie said.
Yup, sounds about right.