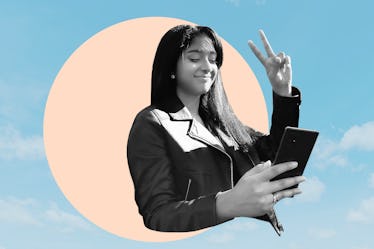 Maitreyi Ramakrishnan, Breakout Star Of 2020, On How She Stays Connected To Her BFF
2020 has been a rollercoaster ride for all of us, but it's even more the case for 18-year-old actress Maitreyi Ramakrishnan, who went from an ordinary Tamil-Canadian high schooler to the lead of a hit TV show earlier this spring.
Maitreyi's journey started last year when her best friend, Shaharah Gaznabbi, texted her a screenshot for an open casting call for new South Asian actresses. On a whim, Maitreyi and Shaharah decided to help each other film self-tapes to send to Hollywood, using Maitreyi's mom's camera, which was tricky to use because it kept shutting off in the middle of their shoots.
However, that didn't hold Maitreyi back. She sent four more tapes, flew to Los Angeles for a final audition, and finally got the call that she won the leading role, beating out many other hopefuls. "It was a win for us both, and that's true friendship," Maitreyi says of her BFF, who also auditioned. "We really won together, and that's a testament to how I am with Shaharah."
The two met when they were both in a high school musical together, Maitreyi in tenth grade, and Shaharah in ninth. "She's my sidekick, but I'm also her sidekick. It's like we're two sidekicks together, a dynamic duo, everything at once," says Maitreyi.
When Maitreyi was in Los Angeles to film the series, apart from everyone she knew, they rehearsed lines together over the phone, and Maitreyi relied on Shaharah's advice. "Shaharah is probably the biggest hype man in my life, but if I'm not doing the best job I possibly can, she'll tell me straight up," says Maitreyi.
Even now that Maitreyi is a major star, and social distancing has become a way of life, their bond has grown even stronger with the Samsung Galaxy A71 5G. "We're either texting with our group chats, texting each other, sending random memes, whatever it is, random snaps of our faces," says Maitreyi. "We're definitely always staying connected and technology definitely helps with that. If we didn't have that, we'd definitely be screwed."
With the Samsung Galaxy A71 5G, they don't miss a beat as they banter with each other at lightning-fast, virtually lag-free speed via text and social media. They're both perfectionists when it comes to their work, so the right technology is even more important as they continue to support each other's careers — Maitreyi's as an actress, and Shaharah's primarily as a writer and director.
When the two friends can't literally be together — due to the pandemic or work — they can still see each other's performances up close, thanks to the Samsung Galaxy A71 5G's 6.7-inch screen and Quad Camera with Super Steady Mode. "I definitely love the big screen because then I can see every inch of my best friend's beautiful face and have everything I need in frame," says Maitreyi.
While life has changed so much since they made those first self-tapes with Maitreyi's mom's malfunctioning camera, Maitreyi and Shaharah's friendship remains a top priority for them both. "It's all about making sure you stay connected with people and that you still invest time into those friendships that are meaningful," says Maitreyi. "As long as it's both sides putting in the effort, a friendship can survive anything."
This article is sponsored by the Samsung Galaxy A71 5G.