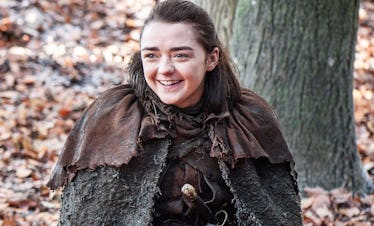 Maisie Williams Said It'd Be "Funny" To Spoil The 'Game Of Thrones' Ending For Fans
HBO
It took Game of Thrones almost a full decade, but after so many seasons where spoilers for the show got out long before the show got on the air, the production has finally learned how to keep their show details on lock. Season 8 has the least amount of information out there ahead of time than any season of the series ever. But at least one actor isn't taking this information lockdown seriously, as Maisie Williams said it'd be "Funny" to spoil Game Of Thrones, or at least the ending.
Williams is now an adult, but she has spent the last decade, which includes most of her formative years, working on the set of Game of Thrones. This means she spent all of her teenagehood standing on red carpets, being asked questions she could not answer, and having to keep plot points to herself for months, if not years on end.
Growing up in such an environment can take a toll on a person's psyche, more than one fan of the show has remarked how level-headed and mature Williams and her co-stars have turned out as adults, considering the three-ring circus they grew up in. But Williams recently admitted the end result has left her harboring secret dreams of being able to spoil things for everyone.
Appearing on the UK's The One Show recently, Williams told hosts Matt Baker and Alex Jones her "ultimate fantasy" is to spoil it all for everyone.
I know what it's like for someone to spoil my favourite TV show! I would love to just turn around to a fanatical fan one day and ruin the ending of the show. Watch their face, like, [drop]. That would be funny.
For a minute Baker and Jones seem to think they'd landed the ultimate interview. But though Williams wants to just ruin everything for everyone, she is far too well trained to do so, despite their questions. On the other hand, she is quite happy to reveal she knows how to flip daggers as the Faceless Men do.
As for what will happen to Arya in Season 8, no one knows. When viewers last left her, she and her Stark siblings had bonded together over taking down Littlefinger, and she and Sansa had come to an understanding over power distribution. Now, with Jon on his way home with a new girlfriend and her dragon pets, the question is how Arya, Sansa, and Bran will respond to their arrival ahead of the Night King and his Army of the Dead.
What fans do know is Williams was the last one left standing when filming drew to a close in July. That doesn't mean she will survive until the end. Scenes are notoriously filmed out of order on the Game of Thrones set. But fans still hope when it comes to the last Stark standing, the honor goes to Arya.
Game of Thrones season 8 still doesn't have a release date, but currently, assumptions peg it as arriving in the second quarter of 2019, just ahead of the Emmys deadline.