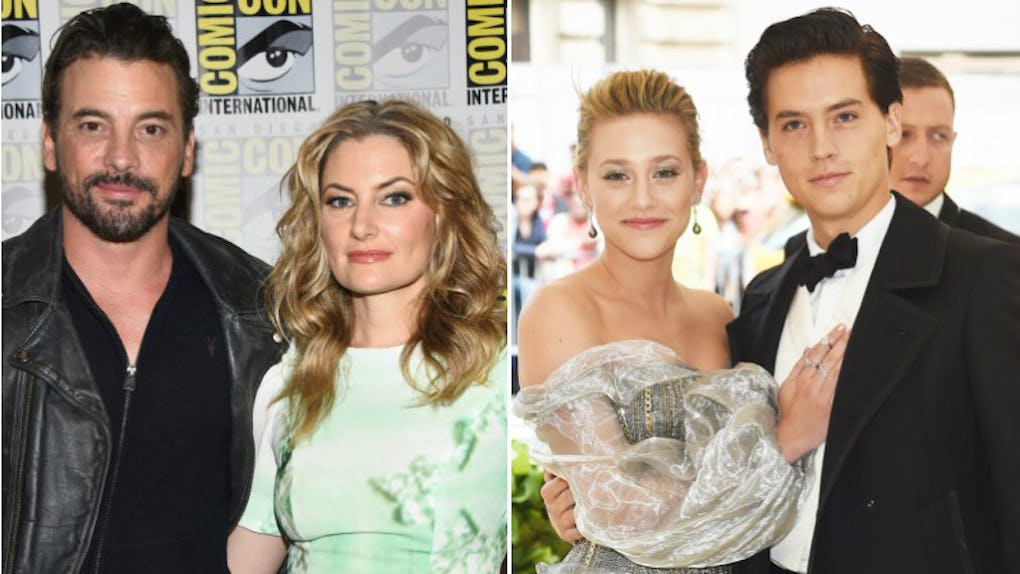 Araya Diaz/Getty Images Entertainment/Getty Images | Jamie McCarthy/Getty Images Entertainment/Getty Images
Madchen Amick & Skeet Ulrich's Comments About Cole Sprouse & Lili Reinhart Dating Are Sweet
Cole Sprouse and Lili Reinhart's love is so sweet even Madchen Amick and Skeet Ulrich are gushing about it. Amick and Ulrich, who play Alice Cooper and FP Jones on Riverdale, recently opened up about their fictional kids' off-screen romance. And what they had to say really makes you believe in love. When asked about Sprouse, who plays Ulrich's son Jughead, and Reinhart, who plays Amick's daughter Betty, the two actors had nothing but great things to say. In fact, Madchen Amick and Skeet Ulrich's comments about Cole Sprouse and Lili Reinhart are everything.
During the Television Critics Association press tour in Beverly Hills, California, Entertainment Tonight's Leanne Aguilera asked Amick and Ulrich about the on set romance between Sprouse and Reinhart. In true parenting fashion, both Amich and Ulrich kept it short, sweet, and encouraging.
Of the real-life Riverdale couple, Madchen seemed happy that they could finally go public with it:
It's great. I mean, they didn't talk about [their relationship] the entire time, until just recently. So, it's nice that they're able to now, like, be public with it, so it's not so under wraps.
She also talked about what amazing people they are and how sweet it is to see them enjoying each other's company:
But at the same time, they're in complete control of what they want to share and how they want to share it. Behind the scenes, they're so sweet with each other and they're both just exceptional people.
Ulrich was equally anxious to talk about the couple, chiming in to say that the friendship between Sprouse and Reinhart is something really special:
It's a lot of work; it's a long season. It's nice. They really keep each other grounded and supported. Their friendship is beautiful.
While fans have long suspected Sprouse and Reinhart of being a dedicated couple, neither party has exactly been forthcoming about a potential relationship. That is, until recently. On August 4, Reinhart posted a photo on Instagram in celebration of Sprouse's birthday. In the photo, he's sitting on a ledge outside and pointing at the camera.
Here's a look at the photo Reinhart shared on Instagram:
Reinhart captioned the photo with a really sweet message. But it was her sign off at the end that really raised some eyebrows. Here's what she wrote for Sprouse's birthday:
It seems as if the world would still be a stranger to me, if not for you. I'm so thankful that our paths intertwined to form this beautiful adventure~ Happy birthday, my love.
Yup, sounds pretty romantic to me! And Amick's comments during her ET interview kind of confirmed it, so it sounds like Sprouse and Reinhart really might be a serious couple. They walked the Met Gala red carpet together, after all, and everyone knows that's where many a celebrity couple have made their official debut.
But hey, if they want to keep things between them for now, then that's totally understandable. They share so much of their lives with fans already. At the very least, they deserve to keep some things to themselves!