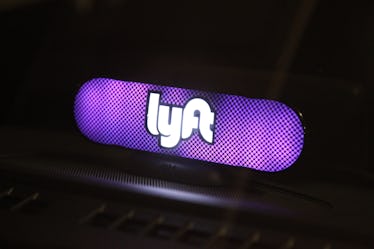 Lyft Is Offering Half Off Rides One Day In November For A Super Inspiring Reason
Kelly Sullivan/Getty Images Entertainment/Getty Images
The midterm elections are right around the corner, and Lyft doesn't want your lack of transportation to stop you from showing up to vote later this year. That's why the ride-share company launched a campaign of its own to help voters make their voice heard in the 2018 election. Lyft's "The Ride To Vote" campaign will offer half-off rides to the polls this November, so there's really no excuse for not showing up.
Lyft estimates that more than 15 million people who were registered to vote in the 2016 elections did not due to transportation issues, per a blog post from the ride-sharing company. Lyft is hoping to change that stat come Election Day 2018. On Tuesday, Nov. 6, Lyft will offer customers 50 percent off rides nationwide, as well as free rides for those patrons living in "underserved communities that face significant obstacles to transportation," according to the company. The goal is to improve voter turnout across the country by giving people access to free or discounted rides.
Lyft is partnering with Vote.org, Nonprofit Vote, TurboVote, and other relevant organizations to help share discounted ride codes with customers as a part of its "The Ride To Vote" campaign, according to a blog post from the company. Additionally, Lyft will work with nonpartisan and nonprofit organizations such as Voto Latino, local Urban league affiliates, and the National Federation for the Blind to distribute free rides on Nov. 6.
You must be traveling to your designated polling location to use the free or discounted ride codes. If you're not sure where your polling location is, Lyft can help with that, too. The company plans to provide product integration for passengers. Or, you can visit your state's election website to locate your polling location ahead of time.
A recent poll conducted by the Public Religion Research Institute found that only 28 percent of millennial voters were confident that they would show up and vote in the 2018 midterm elections in November. While this poll is unrelated to Lyft's "The Ride To Vote" campaign, millennials may be more inspired to cast their vote on Election Day with a little help from Lyft. According to Business Insider, millennials spend close to $100 a month on ride-sharing services including Uber and Lyft. Suffice to say, it's a popular mode of transportation amongst people ages 22 to 37.
The stakes are high this November. According to The Washington Post, each one of the 435 House of Representatives seats is up for grabs, as well as 35 of the 100 Senate seats. Currently, Republicans make up the majority of the House and have a slight advantage in the Senate. Political analysts talk about the possibility of a blue wave this November, but President Trump is singing a different tune. On Tuesday, Aug. 21, the president tweeted, "A Blue Wave means Crime and Open Borders. A Red Wave means Safety and Strength!" A so-called "red wave" would mean that President Trump and the Republicans would continue their control of the House and Senate, for now. Whether you're team blue wave or team red wave, it's important to get out and exercise your right to vote.
As a part of the "The Ride To Vote" campaign, Lyft is also encouraging customers to register to vote and become more informed about ballot initiatives this year. In today's 24/7 political world, it's great to see a company like Lyft stepping up to provide nonpartisan rides to voters. Don't let your lack of transportation keep your voice from being heard this November.