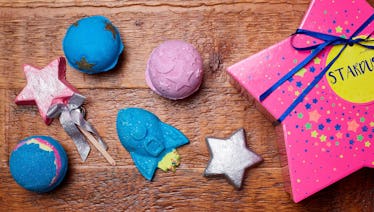 Lush Black Friday Sales Might Disappoint Fans, Until They See THIS Amazing Deal
Lush
After all your intense hours of Black Friday and Cyber Monday shopping, your feet and fingers may feel like they're going to fall off. You're probably going to want a nice, long soak in the tub with your favorite soothing bath bomb. Unfortunately, Lush Black Friday sales aren't happening, so you're going to have to get your bubble bars at full price. Don't be too downtrodden, though, because the best Lush sale of 2017 is still forthcoming.
Lush, like many retailers, doesn't have many sales throughout the year. After all, their products aren't even discounted for Black Friday and Cyber Monday. But, in the past, Lush has participated in Boxing Day (aka Dec. 26) sales. And trust me, the discount is worth the wait.
For those of you unfamiliar with Boxing Day (quite like myself until I did some hard-hitting research), it's a holiday generally celebrated the day after Christmas in England and a handful of other countries historically connected to the UK. Boxing Day began in the Middle Ages as the day when churches would open their collection boxes and distribute the money to the less fortunate. As many holidays often do, Boxing Day has now grown and evolved from its original intent to take on an entirely new significance. In England and other countries, Boxing Day is now a popular day for extreme discounts and door buster sales. For years, it was the biggest shopping day in Britain until the British adopted our American Black Friday. Because Lush originated in Poole, England, it makes sense that they honor their roots with a Boxing Day Sale each year.
Now, the details of this year's Boxing Day sales are still unknown, but last year's deals were just delicious. In 2016, Lush offered 50 percent off on all Christmas and Halloween products and classic, year-round made items before Oct. 1. Lush lovers from all over the globe were invited to take part in the sale. All of the Lush loot, however, was first come, first serve, so customers were encouraged to make their purchases as early as they could on Dec. 26. Of course, once the products were gone, they were gone for good.
If this year's sale is anything like last year's, then get ready to honor the "Treat Yo Self" tradition and nab all of your faves while you can. If you're not sure what to get from Lush on Boxing Day, then here are some suggestions to dazzle your senses and de-stress after a hard day's work.
Glitter And Be Glam With Sparkle Jars
If you want to shimmer and shine brighter than the lights on any house, then get yourself the Snow Fairy Sparkle Jar ($10; lushusa.com). Give your skin a gorgeous and hydrating holographic highlight that smells like cotton candy. Adorable and tasty.
Get Comfy Cozy With Bath Bombs
Ugly Christmas sweaters aren't just for bodies any more. The Christmas Sweater Bath Bomb ($8; lushusa.com) smells like spicy clove bud, coriander seed, and Sicilian lemon oils. Just soak and let the warm scent relax you.
Be As Saucy As You'd Like With Soap
Lush's popular Saucy Snow Cake Soap ($8; lushusa.com) is back and better than ever. It smells just like marzipan, perfect for the holiday season, and contains cocoa butter for soft, soothed winter skin. Your hands will thank you.
Scrub Away Your Dry Lip Troubles
If you're prone to dry, chapped lips in the winter time, then reveal scrub your way to softer lips with the Santa Baby Naked Lip Scrub ($7; lushusa.com). It even has a yummy cola flavor.
Though there might not be any Lush Black Friday deals this year, I'm thinking their Boxing Day Sales will be worth the wait, and provide a much-needed reprieve for my wallet.