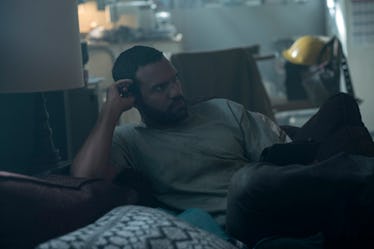 Luke From 'The Handmaid's Tale' Reveals Season 3 Details That Will Shake You – EXCLUSIVE
Hulu
The Handmaid's Tale continues to be Hulu's biggest hit show to date, as well as the most accidentally timely series of the era. Though the show is written and filmed months ahead of time, somehow every season, there's at least one episode that lands as perfectly timely commentary each season. Fans are eager to know what happens next. O-T Fagbenle, who plays Luke from The Handmaid's Tale reveals Season 3 details that will surely excite fans.
For Fagbenle, the highlight of the series so far has been last season's head to head confrontation with Commander Waterford, played by Joseph Fiennes, and the man who owns Luke's wife June. He tells Elite Daily,
It was really emotional because I guess it's been a year and a half, two years, being with Luke and all these terrible ideas of what might be happening to his wife and now he can finally confront the commander. Joseph Fiennes is such an amazing actor, and it was just electric to be able to work with him.
But for Fagbenle, though meeting Waterford was an electric moment, getting the Waterfords kicked out of Canada after he and his roommates uploaded the envelope of Handmaid letters was not nearly the same sort of victory.
To be honest, I feel like that's a hollow victory for Luke. Getting them kicked out doesn't bring the hug of his child any closer or the kiss of his wife. If anything they gnaw at him more, to take more action, because of his fundamental irrelevance.
In fact, Fagbenle sees his character as a man carrying a lot of emotional baggage from the fall of America.
I think Luke suffers from a large feeling of failure, disappointment that he couldn't be there in a more substantial way for his family. He's not a macho man, he's not Rambo... I think he would be really proud of June's decision to try and get our child back and to sacrifice her opportunity to escape for our child. At the same time, he'd feel a gnawing sense of incompetence he can't be more of a presence to help with that.
But when facing questions of what will Luke do in Season 3, especially faced with June's baby having been brought across the border, he sees his character as someone who would step up into a parenting role for Nicole.
On the one hand, you have that this is the love child of his wife's affair with another man under these horrific circumstances. On the other hand, you have your wife's child... my daughter's sister! Luke would understand that kind of pressure and circumstances June would be under and feel a responsibility, this is the way to help. In my actual personal family, there's a lot of that, I have 11 siblings from six different mothers. And my mum herself brought up or helped bring up children of my dad's other wives and past relationships. So I empathize with that kind of decision, to stand in and help be there for a child. I think that's a beautiful thing.
Viewers cannot wait to see how things go down in Canada in The Handmaid's Tale Season 3. The show will return to Hulu in 2019.