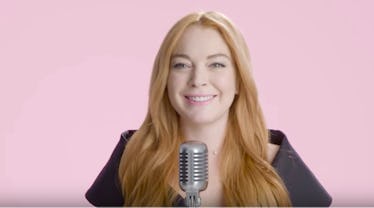 This Video Of Lindsay Lohan Re-Enacting 'Mean Girls' Quotes Will Make You Feel Old AF
W/YouTube
Looking for a little cinematic nostalgia? Your day just got a whole lot grooler. We didn't know we needed a video of Lindsay Lohan re-enacting Mean Girls quotes 14 years after the movie's release, but now that it's in front of us — we're very thankful to have it in our lives.
Mean Girls has been an undeniable pop culture phenomenon since its premiere. The masterpiece is woven into the fabric of the millennial teen film canon and it very well might be the favorite of that genre. The quotes are timeless, the characters are iconic, and Wednesdays will forever be known as the day when "we wear pink." When it came out, Lindsay Lohan skyrocketed to fame as high school newbie Cady Heron, who goes from mathlete to queen bee by befriending the popular Plastics. Every line in the movie is pretty much a bonafide classic, but ever wonder which ones Lindsay likes the most? The actress teamed up with W Magazine to recite her eight favorites for a new clip that is sure to take you back to the mid-aughts in no time. Ah, the days when a Juicy tracksuit, sassy statement tank, and headband was the fetchest possible outfit...
In addition to reading the lines, Linds even chimed in with her own screenwriting notes along the way. When repeating the famous "we only carry sizes 1, 3, and 5, so better off trying Sears" quote, Lohan asks: "Can we say something other than Sears? What's funnier?" After being reminded that that was the original script from the film she remarks, "Damn you, Tina Fey!" (Tina Fey co-penned the movie, lest you forget). Yeah, it's a little late to alter this beloved screenplay.
All of Lindsay's picks are solid, though we're a little sad this didn't make the cut.
Can't win 'em all when the whole hour and 37 minutes is full of gems.
W's timing for this gift of a video makes a lot of sense — the Mean Girls musical is heading to Broadway for previews on March 12. Tina Fey is also behind the book for the adaptation, which premiered in Washington, DC at the National Theater October of last year. How is the musical different from the film? "The show does take place in the present..." Tina Fey has revealed. "It remains a show about people and the way people treat each other and it's inevitable that social media is a part of the landscape." Man — having Instagram, Twitter, and other platforms involved in the 2004 version would have totally flipped that script.
As for a Mean Girls reunion, follow-up, or reboot outside of the Great White Way, Lindsay has expressed she's totally down. "Mean Girls 2 the movie — this is the importance. We need Rachel McAdams! We need the whole cast back!" Lohan told E! News in December. "I'd love to do it again. We had so much fun making it. Mark Waters is such a great director, Tina Fey is an amazing writer, Paramount was great to work with — we all had a blast." She also told Wendy Williams her commitment to making a sequel happen is real. "I've harassed so many times. It's becoming a bit stalker-ish," she admitted. "I go to SNL when I'm in town. I go to Lorne. I run to Steve Higgins."
Yes, we're aware there was a 2011 made-for-TV Mean Girls 2 project, but the OG cast wasn't attached.
Three years ago, Rachel McAdams weighed in on the possibility of returning for more Plastic shenanigans while speaking in EW's Reunions issue. She explained, "Oh God, I hadn't thought about that! Yeah, I'd totally be up for that. Anything that Tina is at the helm of, I'd be into." She received an Oscar nod for her Spotlight the following year. Rachel, ya still in?
While fans keep holding out hope for a Mean Girls sequel to miraculously come to fruition, at least there are Lindsay's line reading renditions to hold us over. We'll take it?