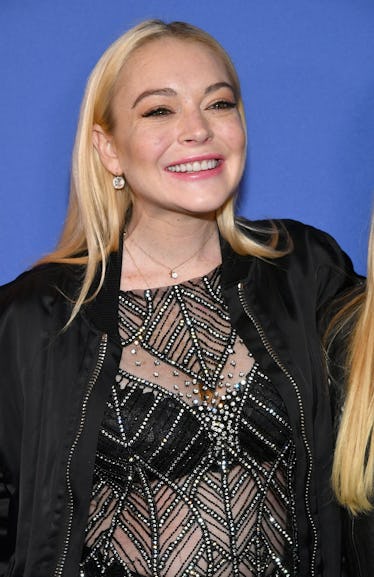 Lindsay Lohan Has An MTV Reality Show In The Works & Honestly, We Deserve This
Slaven Vlasic/Getty Images Entertainment/Getty Images
Lindsay Lohan — or at least her businesses — could be coming to a TV screen near you in the future. The actress-turned-club-owner recently opened up Lohan Beach House in Mykanos, Greece and there's a chance the property's happenings could be filmed for an audience's viewing pleasure. According to her interview with the New York Times, Lindsay Lohan has an MTV reality show on her mind. The paper notes she "has plans for a Vanderpump Rules-style reality show for MTV centered around the club." Perhaps Lindsay will be the next Lisa Vanderpump?
Lohan's latest venue venture is just the beginning — in addition to Lohan Beach House, she's reportedly opening another club in Rhodes and has hopes of creating an island in Dubai. She already has a nightclub in Athens. Lindsay has been living abroad away from the flashing lights of Hollywood and her performing career has slowed down over the last five years. Reality TV might be just the right ticket to transitioning back into entertainment, especially if the project is on her own terms.
"There's a business side to my life now, but I'm not in America, so no one knows about it, which is nice for me," Lohan revealed to the NY Times. "Because I get to actually focus on the result of things."
Lindsay is no stranger to the docuseries genre. In 2014, she participated in the eight-episode OWN series, Lindsay, which chronicled her post-rehab move to New York City and career rebuilding process. Back in 2008 her family even had their own E! reality show with the short-lived Living Lohan, although she did not make an appearance beyond her voice.
Just because Lindsay resides outside of LA these days and has clubs to manage doesn't mean acting is completely in her rearview. Tyra Banks confirmed the now 31-year-old would be reprising her role of Casey for Freeform's Life-Size 2. Lindsay appeared in the 2000 original and apparently expressed interest (via Tyra's DMs) in returning to one of the movies that set her up for success.
"Lindsay Lohan will … be in Life-Size 2, yes!" Banks told Steve Harvey in April. "I really, really want her to. We're talking about it right now, and she has got to come back."
Despite that on-screen turn, Lindsay seems content on staying out of the news and the paparazzi shots for now.
"I never considered people taking a picture 'bothering' me, but I don't want people to misinterpret who I am as a person if they see me sneezing and they say I'm crying. I do really appreciate having the life where I can just go outside and not have to worry," she said of her life in Dubai in a February interview with W.
Lohan may be focusing on her international club endevors, but she hasn't abandoned the business that catapulted her to stardom. Lohan has had a handful of acting gigs over the past decade — she appears in this year's horror film The Shadow Within and had a recurring role on the British comedy Sick Note in 2017. Lindsay has not been shy about campaigning for certain parts in a public forum. She clearly has an interest in making a Mean Girls 2 happen.
"I'm here in New York, so Tina Fey better be hiding, or I'm going to find her, and Lorne Michaels (who produced the film and the musical)" Lohan playfully told ET last year. "I know where his desk is."
Lindsay additionally took to Twitter in January to put her name out there for the part of Batgirl in Joss Whedon's DC Extended Universe project.
"I don't like when people always bring up and re-hash the past. This was actually quite a long time ago," Lindsay explained to Wendy Williams in February regarding her days dominating the tabloid headlines. "I'd rather just stay focused on what I'm going to do next."
If a reality show happens to be next, I'm sure Lindsay's fans and MTV viewers will be behind her.