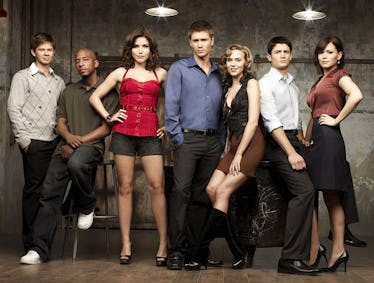 These 'One Tree Hill' Stars Are Reuniting For A New Christmas Movie & I'm SCREAMING
The CW
Several former cast members of the iconic teen drama One Tree Hill recently raised our hopes for a reboot when they took to social media and teased about reuniting for a secret project. These Instagram clues were quickly removed, suggesting that the cast totally embraced their inner teenage rebels and bent embargo rules a little bit, but we finally have clarity about their messages. A trip back to Tree Hill, North Carolina, sadly isn't in store, but Lifetime's The Christmas Contract will reunite One Tree Hill stars. Christmas is the most magical time of the year!
After posting vague photos with the hashtag "Christmas 2018," One Tree Hill actors Danneel Ackles, Hilarie Burton, Robert Buckley, and Antwon Tanner are coming together for a brand new story that sounds perfect for the holiday season. It's not about a Tree Hill High School reunion, but we can always think of it as the beloved old characters in an alternate universe, right? After all, teen dramas without a murder mystery or supernatural creatures seem non-existent now, and I can't help but miss the simple, small-town concept of One Tree Hill.
In The Christmas Contract, Burton (Peyton Sawyer on One Tree Hill) plays Jolie, a web designer who finds herself trekking back home to Louisiana after breaking up with Foster (Hunter Burke). Now due to visit their mutual hometown for the first time since the breakup, Jolie understandably freaks when she learns that Foster is bringing a new girlfriend home for the holidays. Her best friend Naomi (Ackles, aka Rachel Gatina) offers up her brother as a faux boyfriend. Buckley, who joined One Tree Hill in Season 7 as Nathan's sports agent Clay, plays Naomi's brother Jack, but Jolie is still skeptical about pulling off the fake lover act around her nearest and dearest.
Per every best friend in a rom-com, lawyer Naomi eases Jolie's nerves by producing a "Christmas contract" to ensure that both Jolie and Jack get something out of the temporary arrangement. Jack will play the part of Jolie's boyfriend if she designs him a website for his upcoming novel. But there's bound to be some misplaced mistletoe or imbibing of eggnog that complicates that clean and concise deal, right?
While Lifetime hasn't revealed details about Tanner's role, Skills Taylor seems to be surrounded by Christmas spirit on the movie's set. After the news about The Christmas Contract was released, Tanner posted an Instagram photo of himself near a bedecked Christmas tree. In his caption, he included shoutouts to Burton, Ackles, Buckley, and even Tyler Hilton, who appeared as Chris Keller in the original series and will make a musical appearance in the Lifetime movie. Um, I officially need this movie now.
Burton, who has previously starred in several Lifetime holiday movies, shared a photo of flowers that the network sent her in honor of working together again. I know the Christmas greeting was included in this message because of, y'know, the movie's holiday theme, but I'm down to celebrate Christmas in the summer anytime.
Burton also took to Twitter to celebrate the news, revealing that she and Buckley initially pitched the idea to do a Christmas movie together years ago.
Buckley responded to her, stirring up all of my One Tree Hill feels. Forget reboots — why can't every old TV cast just reunite for a holiday flick?
Aww.
One Tree Hill wrapped in 2012 after nine seasons, and although leading lady Sophia Bush has denied any current plans for a revival, seeing some of its cast in this movie is just as exciting. The Christmas Contract will definitely be on my must-watch list this holiday season.