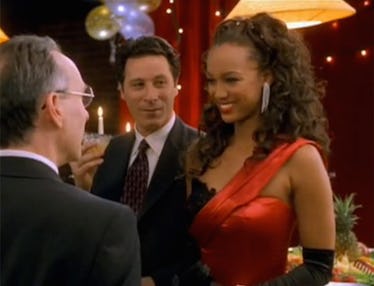 Tyra Banks Is Releasing A "Club Banger" Remix Of "Be A Star" For 'Lifesize 2' & OMFG
Disney
Here's something to file under "things you didn't know you needed but you couldn't be more excited that its happening": Lifesize 2 will have a "Be a Star Remix," and Tyra Banks has plans to make it a "banger." You heard that correctly. The theme song from the 2000 TV film, where Tyra Banks transforms into a human version of a popular doll, will return for the upcoming sequel. But this time, the ditty will be ready for the club. We don't even know what to do with this information, except count down the days until this sure-to-be iconic film premieres.
The original Life-Size, which also starred Lindsay Lohan as a tomboy who tries to resurrect her deceased mother (stay with me here) and ends up bringing an Eve Doll figurine to life, aired in 2000. News of a planned sequel has been floating around since 2015 — the new film will reportedly premiere during Freeform's "25 Days of Christmas" block in December 2018. Now smizing supermodel herself, Tyra Banks, is offering some juicy details on what to expect upon Eve's highly anticipated return.
"I'd love to find a top producer that everybody knows, like a household name, to do the music," Tyra revealed to Entertainment Weekly. "And a beautiful sound technician to auto-tune the hell out of my voice."
"We're going for club banger as opposed to nursery school rhyme this time!" she added.
YES.
You may recall some of the lyrics from the 2000 rendition of "Be a Star" — a classic in its own right — go a little something like this: "Eve's great, no matter where she goes, Dress her up from her head to her toes, On the town, at the mall, Eve loves high fashion, After dark at the club, She'll spend the whole night dancing." So, maybe the new producers will keep that whole club part in? Can we expect some sort of updated EDM fist-pumping twist?
Tyra will, of course, reprise her role of Eve in this year's follow-up. There is no one else that can play Eve but me, thank you very much," Banks revealed to Variety. "I'm just joking with you, but yes, I am going to be Eve."
Since Life-Size debuted 18 years ago, Tyra's TV career has skyrocketed. America's Next Top Model is in its 24th cycle, she briefly had her own talk show, and now she replaced Nick Cannon as the host of America's Got Talent. That's in addition to what seems like a zillion other projects for Banks — she launched a cosmetics company, wrote a best-selling novel, and even made time to guest lecture at Stanford. And let us not forget her 2004 single, "Shake Ya Body." It's about time she revisits her musical side.
Further casting for the Life-Size 2 has not yet been reported as of yet. Fans are obviously wondering if Lindsay Lohan will come back as a grown-up version of her character Casey. "Lindsay and I have been slipping into each other's DM's a lot lately," Tyra divulged at the Television Critics Association in August of 2017. "I think she's very interested in returning. It's about figuring out what that role is. I'd like it to be kind of robust."
We all know and love Toy Story and Child's Play, but in the "dolls-coming-to-life" canon of films, Life-Size surely holds a special place in millennial hearts. As the press release for the sequel explained, "Eve will experience ups and downs of real life in a fun, edgy, modern Christmas movie." That description plus a version of "Be a Star" with a "club banger" remix? Sign. Us. Up.