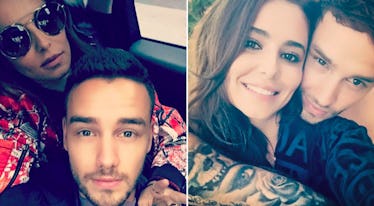 Liam Payne & Cheryl Cole's Body Language During Their Relationship Is So Telling, & Yikes
Another celebrity couple has called it quits. Are you exhausted yet? I know I am. It's hard to keep up with all the lost love on the internet these days, especially when no one talks about what exactly happened. In the case of Liam Payne and Cheryl Cole, who broke up seemingly out of nowhere, we don't have much to go on as to why. But what we do have is Liam Payne and Cheryl Cole's body language, and sometimes, that can tell us more than any statement can.
I asked several body language experts to take a look at some of Liam and Cheryl's photos to see if they could interpret any clues that might explain their sudden breakup. We may never know exactly what happened between them unless either of them offers up more details, and TBH, they don't have to! Celebrity couples have a right to privacy and don't really owe anyone any explanations. But their body language can offer us some not-so-obvious insight into how they were probably feeling at any given time, or their overall relationship dynamic.
In order for their body language to make sense, it's important to backtrack and take a look at the history of their relationship. Liam and Cheryl initially met in 2008 — 10 years ago! He was just 14 years old and auditioning for X Factor, on which Cheryl, then 25, was a judge. She was also married at the time to soccer player Ashley Cole. After getting kicked off the show, Simon Cowell advised Liam to come back when he was 16, and that's exactly what he did. Liam auditioned again in 2010, and it resulted in his joining One Direction (bless). Five years later, in December 2015, 1D performed on X Factor, and Liam (now 22 years old) and Cheryl (who was married to her second husband, restaurateur Jean-Bernard Fernandez-Versini) were reunited again. A video of them hugging after cameras stopped rolling sparked rumors of a potential romance, even though Cheryl was married to her second husband and Liam was fresh off a breakup.
Coincidentally (or maybe not so coincidentally), Cheryl filed for divorce from her husband in January 2016, and after lots of back and forth Insta-flirting, Liam changed his Insta profile pic to one of him and Cheryl in February. They made their red carpet debut in May 2016 at the Global Gift Gala in Paris, and became puppy parents together in July, but Bustle reports that rumors of them becoming actual soon-to-be parents started swirling that very same month. For context, at this point it's been seven months since Cheryl divorced her second husband, and only six months since she and Liam made it officially ~official~.
The months following were full of speculation, until February 2017, when Cheryl reportedly moved into Liam's home in Surrey. In March 2017, Cheryl gave birth to their baby boy, Bear. Both of the new parents posted their birth announcements on their respective Instagrams, finally confirming Cheryl's pregnancy once and for all.
Not much else was reported about Cheryl and Liam in 2017, but it was a big year for Liam's solo career. In May 2017, he released his first post-1D single, "Strip That Down," followed by "Get Low" in July, and "Bedroom Floor" in October. Rumors began to swirl that their relationship was on the rocks in February 2018, when a source told The Sun, "If they didn't have Bear then they would have most likely split up by now." Ouch. That same month, they attended the Brit Awards together and rumors of possible engagement began to circulate after Cheryl was spotted wearing a ring on that finger. They reportedly took a vacation together in April, but on July 1, they both took to Twitter to announce they were going their separate ways.
Phew, a whirlwind! Clearly, a lot happened between these two in a short amount of time, and no one except them can say what really happened behind the scenes, but body language experts Tonya Reiman, Yana German, Traci Brown, and Blanca Cobb did have some insight into what they were possibly feeling throughout some key points in their relationship, based on their poses and photographed affection. Here's what they had to say.