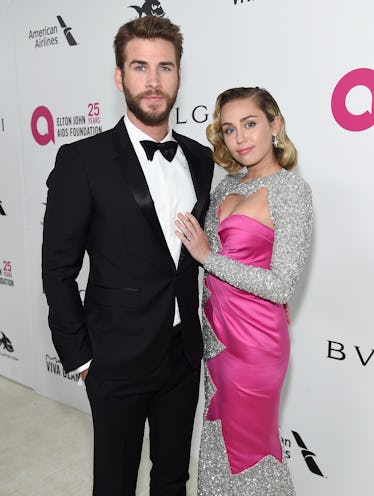 This Video Of Liam Hemsworth Pranking Miley Cyrus Will Make You LOL
Jamie McCarthy/Getty Images Entertainment/Getty Images
Liam Hemsworth is showing off his pranking skills yet again! The 28-year-old actor took to his Instagram Story on Sunday, Sept. 2, to share a hilarious video in which he gives Miley Cyrus a good scare. As is always the case, Cyrus nearly jumped out of her skin, and Hemsworth was full of hearty laughs. This video of Liam Hemsworth pranking Miley Cyrus will definitely put a smile on your face.
In the video, Hemsworth can be seen filming himself walking through a parking garage to his car. Cyrus is sitting in the passenger seat with her back turned to the window, giving Hemsworth the perfect opportunity to scare the heck out of her.
At the last second, Hemsworth screams and hits the window which causes Cyrus to jump and get a little irritated. But she smiles at the camera in the end. You can see the simultaneously hilarious and cute video for yourself below:
This new video is just one of many in which Hemsworth attempts to scare Cyrus. Just last week, on Friday, Aug. 31, Hemsworth posted another video of an attempt to scare Cyrus.
In that video, he ambushes her and screams, as she responds with a stream of foul language.
"I hate you so much," she says in the video. And then when she sees that Hemsworth's phone is recording her, she covers her face. "Oh, Liam! He is so f*cking annoying!" she says as she walks away and laughs.
Here's a look at that foul-mouthed scare:
As if all that isn't enough, Hemsworth also gave Cyrus a scare on Wednesday, Aug. 29, while the two were driving.
In that video, Hemsworth is wearing a mask and driving while Cyrus is just hanging out in the passenger seat. For the first couple of seconds, they're talking about what they see on the road. You know, like deer and whatnot. It's all calm and seemingly uneventful. But then, Hemsworth pulls his classic stunt of hitting the brakes and making Cyrus jump.
"Gets her every time 😂" Hemsworth captioned the video.
Hemsworth seems to have a habit of scaring Cyrus, and it seems like it's definitely something he's not going to stop anytime soon. It's hilarious that Cyrus still jumps, even though Hemsworth has done this to her countless times. I mean, she should know by now, right?
It's cute, though! The fact that Cyrus and Hemsworth have been together for almost 10 years doesn't seem to have lessened the amount of fun they have together. And that's what love is all about. From the looks of these prank videos, they seem to really enjoy each other's company.
Despite being together for so long, the couple isn't in any rush to get married. In an Aug. 2018 report from TMZ, a source claimed that the two stars aren't thinking of marriage at the moment. The source claimed to the publication that, for Hemsworth and Cyrus, "the formality of marriage isn't important. What they view as important are ... they love each other, they're happy and enjoy each other's company."
So, it sounds like they're just taking life as it comes... kind of like those jump scares Hemsworth keeps throwing Cyrus' way!