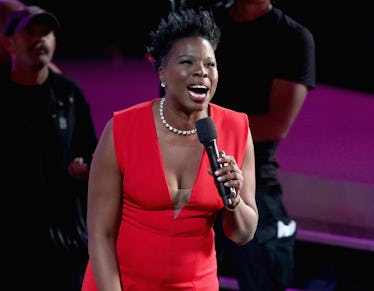 'SNL' Star Leslie Jones Is Covering The Olympics For NBC & We Can't Wait
Frederick M. Brown/Getty Images Entertainment/Getty Images
If I had to place money on which Saturday Night Live star was most likely to make me laugh, the bet would instantly be on Leslie Jones. The 50-year-old has been a SNL mainstay since 2014, frequently appearing as herself in hilariously real Weekend Update segments. Often lauded for her Twitter presence, Jones' eager online support of Team USA during the 2016 Summer Games has helped her land her next role: Leslie Jones is going to the Olympics! The comedian will officially join NBC in its coverage of the 2018 Winter Olympics in PyeongChang, South Korea.
The news comes after Jones' frequent live-tweeting of the 2016 Olympics earned her a message from Jim Bell, the president of Olympics production and programming at NBC. A day into competitions in Rio de Janeiro in August 2016, Bell tweeted that Jones was invited to the Olympics. Although Jones was convinced that Bell was joking, he promised that he would reach out with legitimate details. Jones made it to Rio for the rest of the Olympics' run, meeting athletes and cracking them up with her bold sense of humor. A little enthusiasm can go a long way, huh?
Jones finally confirmed her long-awaited involvement with the Winter Olympics in a video posted to her Twitter account on Monday. Decked out in American flag gear, she pretended to ski as she made the announcement:
As a contributor, Jones will attend sporting events, meet competitors, and produce both online and televised segments for Olympic viewers. In a statement, Bell emphasized how rewarding Jones's perspective of the Olympics will be:
Experiencing the Olympics through the lens of Leslie is unlike anything else. Her passion for Team USA is contagious, and her adventures in South Korea should be fascinating.
Anyone familiar with Jones' tweets or onscreen comedy knows that she can be brutally real sometimes. Lately, her Twitter account has been a place for her to post workout updates, but she recently shared a private thought about not feeling that the exercise was worth it:
Luckily, plenty of her followers showered Jones with love after her tweet. I definitely need to take note of some of this advice for myself.
Also in 2016, Jones made headlines for being the target of intense Twitter abuse. She temporarily left the site when the hate against her increased, but her supporters raised awareness of her attacks with the hashtag #LoveForLeslieJ. After personally working with Twitter founder and CEO Jack Dorsey on how to better its policies regarding hate speech, Jones returned to the social media platform in a triumphantly sassy way.
In a sequence of events proving that great things do happen to deserving people, Jones received her 2016 Olympics opportunity only a few weeks later.
While Twitter has clearly brought her plenty of anguish, Jones has continued to be a key example of stepping in when the haters have hated just too much. Speaking to Seth Meyers soon after the incident, she said:
What's scary about the whole thing is that the insults didn't hurt me. Unfortunately, I'm used to the insults... but what scared me was the injustice of a gang of people jumping against you for such a sick cause... it was so gross and mean and unnecessary... if I hadn't said anything, nobody would've ever known about this.
Based on her excitement about going to PyeongChang, Jones is definitely ready to spread some joy online rather than giving attention to the hate. If you need a good laugh before the Winter Olympics start, just treat yourself to some of her best tweets from Rio.
I have my fingers crossed for Jones pairing up with Al Roker to try out one of the winter sports. Those two would be nothing short of comedy gold, but Jones is clearly a great success on her own.