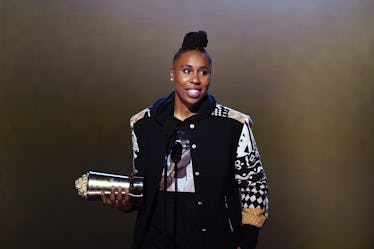 Lena Waithe Revealed How Her New Haircut Helped Her Feel More Comfortable In Her Own Skin
Kevin Winter/Getty Images Entertainment/Getty Images
Hair can say a lot about who we are. For many of us, hair is sometimes a sense of security. And for others, it may have a lot to do with our identities and the ways in which we choose to express ourselves. But for one film star, it was all about being bolder when it came to her sexuality. On Aug. 9, Lean Waithe's new haircut made its debut at an event for the Hollywood Foreign Press Association. With her trademark locs gone, and her new buzzcut on full display, the Emmy winner opened up to Variety about why she decided to go for the new look.
"I'm very much a lesbian, OK?" she began. "I've gotten gayer, guys."
She continued, revealing that her haircut holds a much deeper meaning than most people's typical desire for a change:
I've been thinking about it for a while and I think — if I can get deep with you — I feel like I was holding on to a piece of femininity that would make the world feel comfortable with who I am. I thought for a long time, 'Well if I cut my hair then I'll be a stud — you know in the gay world there's a lot of categories — or I'll be a butch. And I always thought, well, no I'm not that, I'm like so soft. And I said, 'I gotta put that down, because that's something that's outside of me.'
Waithe also added that, at this point in her life, she's not concerned with what anyone has to say about her new hair, because she "feels so free, and so happy, and so joyful."
"I'm here with a suit on, not a stitch of makeup, and a haircut," she explained. "I feel like, 'Why can't I exist in the world in that way?'"
The Master Of None star went to Los Angeles-based barber @BarberDollTheSlayer to get her buzz, which she originally got done in mid-July, according to her own post on Instagram.
This isn't the first time the actress has used style to send a strong message about and to her community. On the first Monday in May 2018, Waithe wore the updated LGBTQ+ rainbow flag as a cape to the Met Gala, where the theme was Heavenly Bodies: Fashion and the Catholic Imagination. The look, created by designer Carolina Herrera, was revolutionary, considering the Catholic church's traditional stance against gays and same-sex marriage. Waithe, rather, saw it as a moment to show everyone that it's OK to be who you are.
"In my Emmy speech, you know, I mentioned putting on imaginary capes," she told Vogue on the red carpet. "Tonight this cape is not imaginary, and it's rainbow colored, and we got the black and brown. I'm repping my community, and I want everybody to know that you can be whoever you are, and be completely proud, and be doing it."
As far as her professional work goes, Waithe just inked a new deal with HBO, alongside comedian Kid Fury, to executive produce a half-hour-long series for the channel. While not many details about the show have been made public just yet, Variety reported that the story will follow of a 20-something, gay black man named Greg, who's navigating adulthood in New York City.
Now, considering that every project this woman touches turns to gold, I'm sure we'll be seeing her killing it on more red carpets very, very soon.