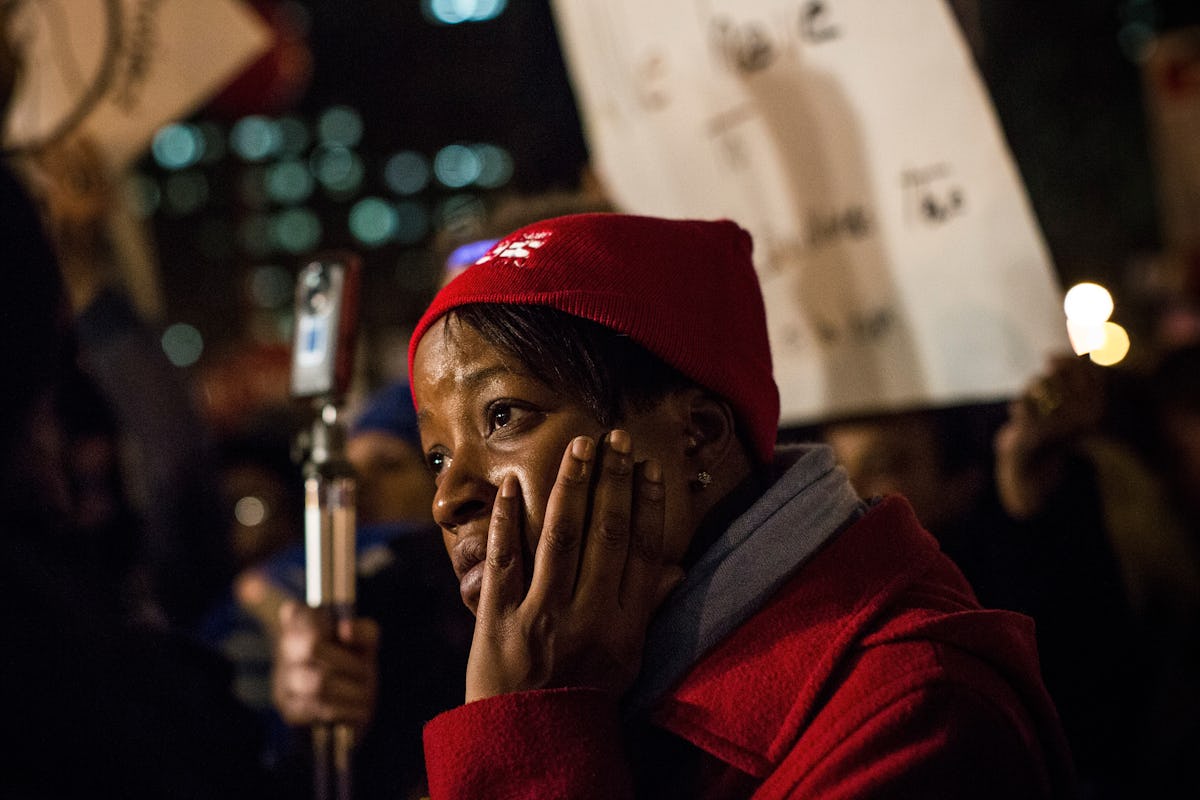 This Campaign Is Breaking Down Some Myths About Black Women & The Wage Gap
Andrew Burton/Getty Images News/Getty Images
You probably already know how real the gender pay gap is, and that women only earn a fraction of what their male counterparts make. But you might be surprised to learn that black women are further disproportionately affected by this issue, earning even less than both white men and white women. In fact, Aug. 7 is Black Women's Equal Pay Day, which marks how far black women had to work into 2018 to match the amount white men made in 2017 alone. That's where Lean In's #38PercentCounts campaign comes in, and I'm here to tell you all about it.
On average, black women make 38 percent less than white men and 21 percent less than white women, according to Vox. Despite the large wage gap for black women, there is a huge lack of awareness surrounding the topic in America, which is why Lean In has launched its #38PercentCounts campaign, the second of three public awareness efforts it's putting forth in 2018 rooted in the idea that equal pay matters.
As part of the campaign, the company released new data showing just how little people know about the wage gap that black women have to deal with. According to recent survey findings from Lean In, SurveyMonkey, and the National Urban League, more than 30 percent of Americans don't even know that black women even face an exaggerated pay gap, while 40 percent of those who do underestimate its size.
When it comes to general obstacles for success things are rough, too. About half of white men think obstacles for black women to advance are gone, but only 14 percent of black women say the same thing. Moreover, almost 70 percent of non-black people think racism, sexism, or both are uncommon in their workplace — while 60 percent of black women say they've experienced discrimination in their company.
Clearly, there are some things that aren't matching up here.
It gets worse, too. Due to the wage gaps and related obstacles, black women — who are currently the most educated group in America, by the way — can potentially lose nearly $870,000 over the course of their careers, according to the National Women's Law Center.
As a response to these misconceptions, Lean In has partnered with several companies that are known for advocating for equality in the workplace — including Adidas, Lyft, P&G, and Reebok — to ask consumers to think about the impact of earning 38 percent less while they make everyday purchases on Aug. 7.
On Black Women's Equal Pay Day, customers at Adidas and Reebok stores around the country and on their respective websites will see the messages of #38PercentCounts on everything from shopping bags to purchase receipts, according to a press release from Lean In. Meanwhile, Lyft is asking riders to imagine if their trip ended with 38 percent of the distance left to go after each ride — and P&G is sponsoring campaign videos that highlight the impact of earning 38 percent less on black women and their families.
"The pay gap facing Black women is an urgent problem [in America]," Sheryl Sandberg, COO of Facebook and founder of Lean In, said in the press release.
It has huge financial implications for millions of families. And it signals something deeply wrong in our economy. We need to address the gender and racial inequalities that give rise to this imbalance—and create workplaces where everyone's labor is valued, everyone is treated with respect, and everyone has an equal shot at success.
Clearly, there have only been partial conversations going on about such a serious issue. So as a reminder on Black Women's Equal Pay Day, let's try to keep in mind that diversity and inclusivity are necessary for advancement — not just for black women as a group, but for America as a whole — and allow that thought to translate onto paychecks going forward.