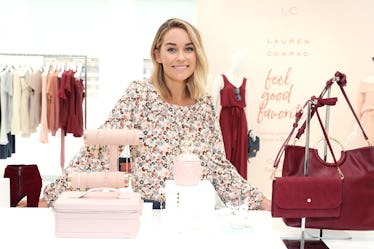 Lauren Conrad Revealed Whether Or Not She'll Be In 'The Hills' Reboot
Cindy Ord/Getty Images Entertainment/Getty Images
One of MTV's most significant announcements during this week's VMA's was the return of The Hills to the prime-time line up. The series, which was a reality show hit from 2006-2010, will be coming back starting in 2019, with most of the familiar faces from the original show now at an age where they are starting families in the prime of adulthood. But one face definitely won't be back. Original star Lauren Conrad won't be in The Hills reboot, but she says she wishes the cast the best.
Back in the early aughts, just when MTV decided to move away from music for good, one of their first hit reality series was a high school soap called Laguna Beach. Season 1 starred senior Lauren Conrad as the narrator and foundation character. When she graduated, the starring role went to Kristin Cavallari, who was a junior in the first season.
Laguna Beach only latest three years, when it was then replaced by The Hills, once again starring Lauren Conrad. The show ran six seasons, but Conrad was there for just the first four and a half. When she left partway through Season 5, she was replaced by, you guessed it, Kristin Cavallari. But for the reboot, it seems neither Cavallari nor Conrad will be anchoring.
Cavallari's reasons for not returning are contractual. People Magazine reports doing the MTV show would "conflict" with her current deal with E!. She's currently starring in her own reality series on E! entitled Very Cavallari, co-starring her husband, former football player Jay Cutler.
But Conrad doesn't have a conflicting reality series to prevent her from signing with MTV. So why did she not come back? According to Entertainment Weekly, she's moved on, and it no longer works with her lifestyle.
She's in a different place in her life. But she wants everyone to enjoy themselves. She wishes everyone the best.
The fact is, Conrad managed to win the reality show lottery, as it were. Her goal from the very beginning of The Hills was to become a fashion designer. When she left the show, she published a trilogy of successful novels and pushed her way into the fashion industry. She now runs LC Lauren Conrad, which first debuted at New York Fashion Week back in 2015, and now is carried at Kohl's. She's now up to her ninth novel, and she's looking to open her first brick and mortar shop in California.
With so much on her plate, including her son, William "Liam" Tell who she had with husband guitarist William Tell last year, doing a reality series just isn't going to fit into her schedule. Her source tells EW:
She loves being a mother and focusing on her family and on her work. She has a very full and happy life.
MTV has soldiered on without Conrad before though, and they'll soldier on again. Surely the Pratt family will provide plenty of drama without needing either Conrad or Cavallari. The Hills: New Beginnings arrives on MTV come 2019.