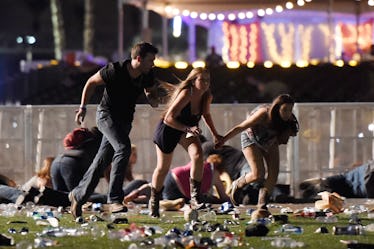 Las Vegas Shooting Conspiracy Theories Are Not OK, Here's What To Be Aware Of
David Becker/Getty Images News/Getty Images
On Sunday, Oct. 1, a mass shooting in Las Vegas, Nevada, left more than 50 civilians dead at the Route 91 Harvest festival, according to The New York Times earlier this morning. Country music singer Jason Aldean was on stage performing at the time of the shooting. The 40-year-old singer took to Instagram this morning to post about the horrible tragedy that occurred near the Mandalay Bay Resort and Casino. Loving thoughts and prayers go out to all of the victims and their families in this devastating time. People throughout the world are taking to Twitter, Instagram, and other social media outlets to express their immense heartache with "Pray for Vegas" memes and tributes. Among these posts, BuzzFeed reports there is a lot of fake information being spread by trolls on the internet. Las Vegas shooting conspiracy theories are not OK in any way, shape, or form, and at such a devastating time, it's crucial for all of us to be aware of what is the real news out there, and what is false.
Update: Las Vegas Police Department Sheriff Joe Lombardo has confirmed that at least 58 people were killed and over 515 were injured in the shooting. The shooter has also been confirmed dead and is not believed to have a connection to any terrorist group.
Earlier: We do know thus far that officials report the gunman was a Nevada local, and this tragedy currently has not been linked to or classified as an act of terrorism. More than 400 civilians were injured, and more than 50 people were killed in this tragic attack. It is reported that the gunman fired shots from inside a hotel room on the 32nd floor of the Mandalay Bay Resort during the festival. NBC Nightly News tweeted a report that more than 10 rifles were discovered in the gunman's hotel room. Officials in Nevada have confirmed that the gunman is dead. Further details are still coming out about the shooting, and according to CNN, this attack is said to be "the deadliest mass shooting" that has ever occurred in America.
Former President Barack Obama, Hillary Clinton, President Donald Trump, and many more have taken to Twitter to respond to the tragedy.
In the midst of tweets pouring out an endless amount of support for the victims and all of their families, trolls have the audacity to attempt spreading false information and conspiracies about the Las Vegas shooting. As reported by BuzzFeed, there are numerous falsities going around, and they need to be stopped right in their tracks. There are many trolls tweeting out false missing persons. A troll account on Twitter named @winterr posted a picture of a blonde girl wearing glasses, labeling her a missing person in Mandalay Bay (claiming the photo is of their "missing" daughter) — which is false. The tweet has since been deleted.
In addition, internet trolls from the far-right are putting a conspiracy theory out on the web that the Las Vegas gunman was a person named Geary Danley, when in fact there have no reports connecting him to the shooting. As reported by the Washington Post, this user was a Facebook friend of a profile that seemed to belong to someone who officials labeled a "person of interest" in the Las Vegas shooting. Geary Danley's profile features numerous Facebook likes that cater toward left-leaning groups.
When tragedy strikes, it's our duty to establish what is fake news and what is true. The internet makes it quick and easy to put information out there, whatever it may be. This is why it's necessary to have go-to, reliable news sources from which to obtain concrete facts, and stick together as a nation.
If you're looking for ways to help besides sharing reliable information, according to the Las Vegas Metropolitan Police Department, if you live in the Las Vegas area, you can head over to 7135 West Sahara Avenue in Las Vegas, Nevada, to donate blood for those injured during the shooting. If you aren't located right in Las Vegas, there are several other blood donation centers in Nevada.
Hopefully, the voices of those supporting and helping the victims of the shooting will be louder than those spreading false information.