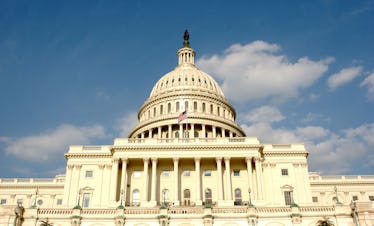 Democrats Just Flipped Another Senate Seat, One Week After Election Day
Stefan Zaklin/Getty Images News/Getty Images
The Nov. 6 midterm elections aren't over yet. A week after Election Day final results are still rolling in from some tight races, and so far things are going pretty well for Democrats. The results have arguably turned out broader than expected, with the party regaining control over the U.S. House of Representatives and even flipping some GOP seats in the U.S. Senate. Now, add one more to the list. On Monday, Nov. 12, three-term congresswoman Kyrsten Sinema flipped Arizona's Senate Seat, which has long been held by Republicans, marking yet another major win for the Democratic party.
On Monday evening, six days after the polls closed and as votes were still being counted, the Associated Press called the Arizona race for Sinema, who defeated Republican Martha McSally to claim the state's seat in the U.S. Senate. Sinema will be taking over the seat of retiring Republican Sen. Jeff Flake, making her the first Democrat Arizona has elected to the Senate since 1988. Additionally, she's the state's first female senator and the first openly bisexual senator in American history. She positioned herself as a centrist Democrat who had no problem bucking against her Democratic counterparts and ran on a platform that included immigration reform, a plan for affordable health care, and providing adequate care for veterans. After her victory, Sinema took to Twitter to declare she would be an "independent voice for all Arizonans."
McSally, on the other hand, a former Air Force pilot, supported President Donald Trump's tax cut, border security and a repeal of the Affordable Care Act repeal, per PBS News. The race was among one of the most closely watched events in the midterm elections, and at one point, the results were neck and neck. But as they continued to roll in, Sinema took the lead, earning 49.7 percent of voters while McSally earned 48 percent, according to The New York Times.
McSally conceded to Sinema late Monday evening, saying in a video shared to her Twitter, "I just called Kyrsten Sinema and congratulated her on becoming Arizona's first female senator after a hard-fought battle .... Our best days are still yet to come."
With Sinema's victory, Democrats now have 47 Senate seats while Republicans control 51, according to The New York Times. Two races, however, are still undecided: one in Florida, where a recount has been ordered. And the other in Mississippi, where there's a runoff. Prior to the midterms, Republicans held control of the Senate with a narrow majority of 51 seats, as the two independents in the Senate who caucus with Democrats. So, these last two races will be carefully watched.
Although Republicans have maintained control in the Senate, Democrats made some serious gains in the 2018 midterms, finding mass support from women, minorities, and college-educated voters. Per Vox, they flipped seven gubernatorial seats in states including Illinois, Kansas, Nevada, and Wisconsin. According to the National Conference of State Legislatures (NCSL), Democrats also flipped six legislative chambers to hold control in 18 states. And they swept the House, winning a majority of seats for the first time since 2008, per Bloomberg. Add that to an additional flipped Senate seat and the results aren't too shabby.
Even more wins could even be on the way. According to NPR, the runoff in Mississippi is scheduled for Nov. 27. And the recount in Florida is currently chugging along, so we'll see.
Sure, there were predictions of a "blue wave," but who knew it'd all turn out like this.