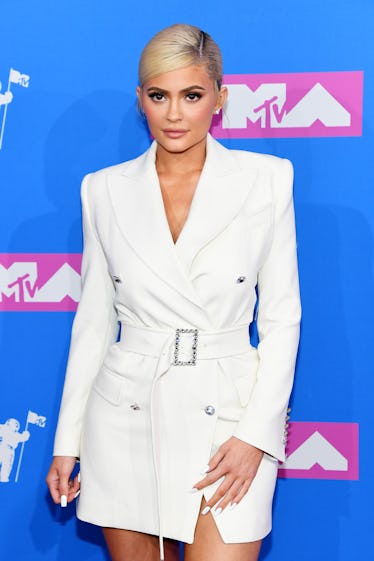 Kylie Jenner Gave A Tour Of Her Mansion On Snapchat That'll Fill You With So Much Envy
Nicholas Hunt/Getty Images Entertainment/Getty Images
Kylie Jenner's house is fit for a queen and one glimpse at it will make you rage with total envy. The 21-year-old cosmetics mogul took to Snapchat on Monday, Sept. 3 to show off her digs and give fans the grand tour. And let me tell you, it's not as humble as you may have imagined. Kylie Jenner's Snapchat house tour is really something worth looking at, especially if you're curious about how millionaires (almost-billionaires, in this case) live.
Jenner's estate boasts a ridiculously large pool, balconies like you wouldn't believe, a tennis court, automatic window shades, and a huge gate at the front of the property. Oh, and there's a security guard on premises! It's literally a billionaire's playground and totally proves that Jenner knows how to spend her hard-earned money very well.
While Jenner is usually pretty private about her whereabouts, she seemed to be feeling quite open on Snapchat. The Instagram fan account kyliesnapx shared Jenner's Snapchat videos on their page for all to see.
In one video, you can see Jenner's sprawling estate from a balcony view. The camera pans over what looks to be the backyard. Jenner's incredible pool and tennis court are clearly within view. Another video shows the pool all by itself with a fountain spouting water to the center of it.
Ready to take the Kylie Jenner Snapchat house tour? Let's start with the pool:
And here's the pool and the tennis court:
And Jenner's friend and roommate Jordyn Woods posing in front of the tennis court:
But that's not all fans got a look at on Jenner's Snapchat tour of her home. There was also what appeared to be a view of her bedroom. Well, the outside of it, anyway. Here's a look at it:
Looks pretty fancy!
There was also a snap of Jenner's automatic window shades that appear to be in the same room as the video above.
Look at them. Aren't they cool?
Perhaps the most interesting video from Jenner's Snapchatting session was the one of her pulling into her driveway. The home is, of course, gated. But the gate is so huge! And there's a security guard in the background! More than anything, though, the video provides so much context for how Jenner lives. She's one of the most famous people on the planet and manages to maintain some semblance of privacy thanks to how safe and secure her estate seems to be.
Here's the video of her gated home:
On top of all that, Jenner also shared a snap of her prodding Jordy to hurry up and get ready. You can catch a glimpse of their bathroom in the video:
Needless to say, these videos gave fans way more than a five cent tour. There's just so much to glean from how Jenner lives and it's interesting to get even a brief look at that.
Anyway, now that you've seen Jenner's incredible home, I bet you feel like you need to go out there and make your millions, too. I know I do!